No dearth of funds for development of Kolaras: CM Chouhan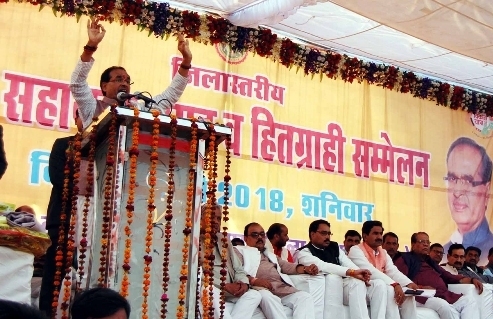 ---
Kolaras City to be made beautiful
Bhopal:
Chief Minister Shivraj Singh Chouhan said that all efforts would be made for development of Kolaras. There will be no dearth of funds for development. The budget has been made for the announcements made. Chief Minister Chouhan said this in the Sarvadharma Samaj Sammelan in a private school in Kolaras.
Chief Minister Chouhan said that he has always worked for moving upward Madhya Pradesh. State should get progress in all sectors and for this, he is working day and night. He said that he felt gratitude after the love and affection he got in Kolaras. He said that life of farmers in the area will change after implementation of sanctioned irrigation projects. Chouhan said that Kolaras city will be developed as a beautiful city. Along with development of inner roads, drinking water problem will also be redressed.
Beautification of Gunjari river to be made
Chouhan said that beautification of Gunjari river will be carried out and it will become identity of Kolaras. A team of officers and experts from the Department of Urban Development will be sent for this work. Before this, Chief Minister Chouhan visited Kolaras city and heard problems of the people. The people welcomed chief minister at different places by presenting flowers.
Minister of Public Health and Family Welfare and district in-charge Rustam Singh, Public Relations and Water Resources Minister Dr Narottam Mishra, MLA Prahlad Bharti, Vice Chairman of Fishermen Welfare Board Raju Batham, Former Minister KL Agrawal and prominent people of different communities were present.-
Window To News
RELATED NEWS
January 24th, 2019
January 23rd, 2019
January 23rd, 2019