Students of Architecture visits Manav Sangrahalaya
Friday - January 12, 2018 6:35 pm ,
Category : BHOPAL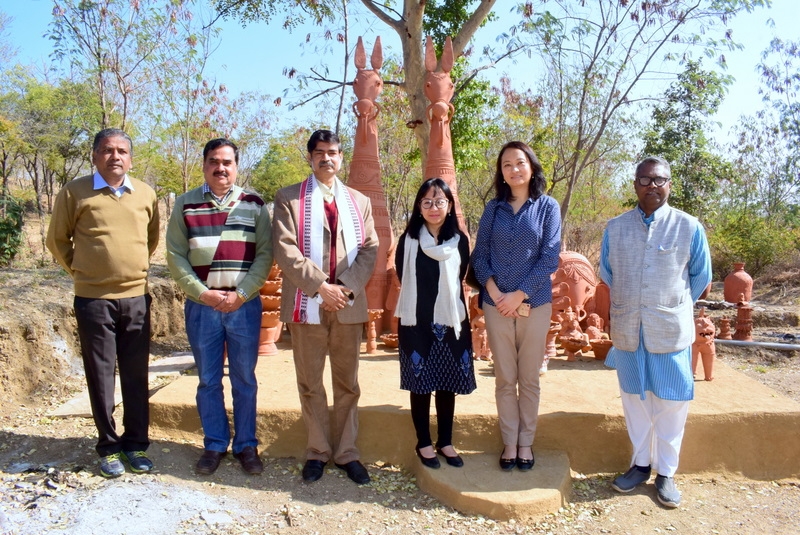 ---
Bhopal: On today students and faculties of the School of Architecture DTC, Grater Noida, U.P. for study the various typologies and built up spaces of Vernacular Architecture of different states as a part of their academic schedule visited Manav Sangrahalaya on the bank of 7 mile long Bhopal upper lake. Dr. P Shankara Rao and Dr. Ashok Kumar Sharma introduce the vernacular architecture of this museum in brief. On this occasion the 45 students and 04 faculties visited the All open air exhibition and Veethi Sankul indoor exhibition building of the museum.

Officials of the Culture Affairs and Heritage Department, Govt. of Sikkim observed IGRMS
For the purpose of establishing a museum in Sikkim state, today Ms. Chunni Thakarpa (Deputy Director) and Ms. Deepashikha Gurung (Archives Officer) from Cultural Affairs and Heritage Department, Govt. of Sikkim, visited Traditional Technology Park, Rock Art Shelters, Tribal Habitat, Himalayan Village, Coastal & Desert Village open air exhibition and Specimen store, Mythological Trail, Avritti Bhawan and galleries of Veethi Sankul at IGRMS. During the visit was guided by Dr. P. Shankar Rao and Dr. Ashok Kumar Sharma of Manav Sangrahalaya.
A Potter's Workshop from Manipur at Pottery trail, IGRMS
Today in Pottery trail at IGRMS, the traditional artists of Manipur started the work of pot making after Ritual process. This ritual performed by Prof. Sarit Kumar Chaudhuri (Director, IGRMS). The potters use Leitan (black clay) and Nungjreng (Sand) as tempering material to produce their red wares. The materials are found in their locality. The potters of these three villages mix the clay with nungjreng in an equal ratio to prepare good paste for producing strong and durable pots. The art of handmade pottery involves a distinct craftsmanship handmade pottery uses unique kind of beating and polishing tools and the potter moves around the clay to shape the pot. One can see the beautiful hand gestures applied in transforming the clay into a beautiful pots.-Window To News
RELATED NEWS
October 21st, 2018
October 21st, 2018
October 20th, 2018