Delegation from 24 countries visited IGRMS
Saturday - January 13, 2018 8:29 pm ,
Category : BHOPAL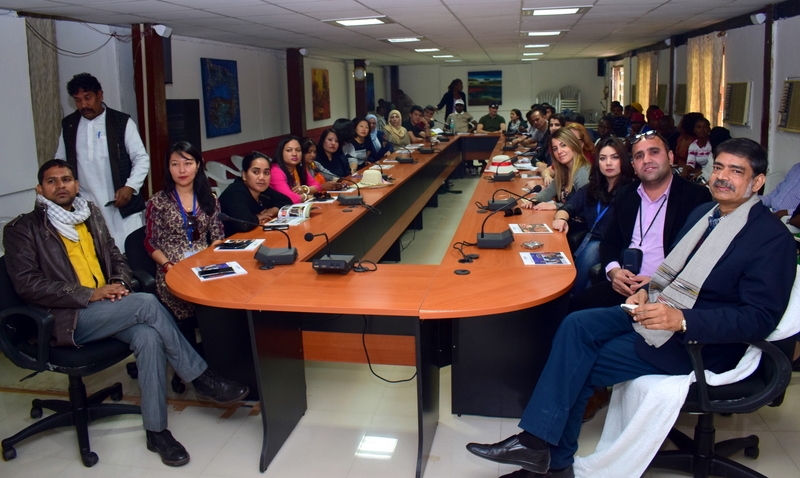 ---
Bhopal: A group of 44 delegation from 24 countries visited IGRMS on 13th January, 2018. The delegation was welcomed by Director, IGRMS Prof. Sarit Kumar Chaudhuri who gave them the initial information about IGRMS and diverse variety of Indian culture and the elements binding them together. He further said "IGRMS is invites various communities of India to its campus spread in over 200 acres land and develops open air as well as indoor museum galleries with special emphasis on geographical conditions of the region while conserving and exhibiting it in here. You will witness exhibitions presenting Pan-India's traditional lifestyle, vernacular knowledge system and ethics also geographical, environmental condition has been conserved". Later on they were shown documentary film on IGRMS and taken to various open air and indoor exhibition of Museum, where they were guided by the senior officer of the museum Dr. Surya Kumar Pandey, Dr. PS Rao, and Dr. Ashok Sharma.

These participants are undergoing training at National Institute for Entrepreneurship and Small Business Development (NIESBUD), Noida under the Indian Technical & Economic Cooperation Programme (ITEC)/Special Commonwealth Assistance for Africa Programme (SCAAP) fellowship, sponsored by the Ministry of External Affairs, Govt. of India, New Delhi. The delegation visited museum as an integral part of their training programme to study the Indian small Industry Environment, Indian Culture and customs. The visit to the IGRMS gave them an idea about the diverse variety and unity of Indian culture.
12th Blind Challenge Car-Rally on 14th Jan

The 12th Blind Challenge Car-Rally is being organised by Indira Gandhi Rashtriya Manav Sangrahalaya in collaboration with Arushi, NGO for differently-abled on 14th January, 2018. The rally will be flagged off from on front of Prakash Taran Pushkar (near Amer Bakery Huts) at 9.30 amand culminate at Manav Sangrahalaya followed by prize distribution programme at Veethi Sankul premises at 11.30am.-Window To News


RELATED NEWS
October 21st, 2018
October 21st, 2018
October 20th, 2018