Ekatm Yatra from Pachmatha Rewa given warm welcome in Bhopal
Sunday - January 14, 2018 1:18 am ,
Category : BHOPAL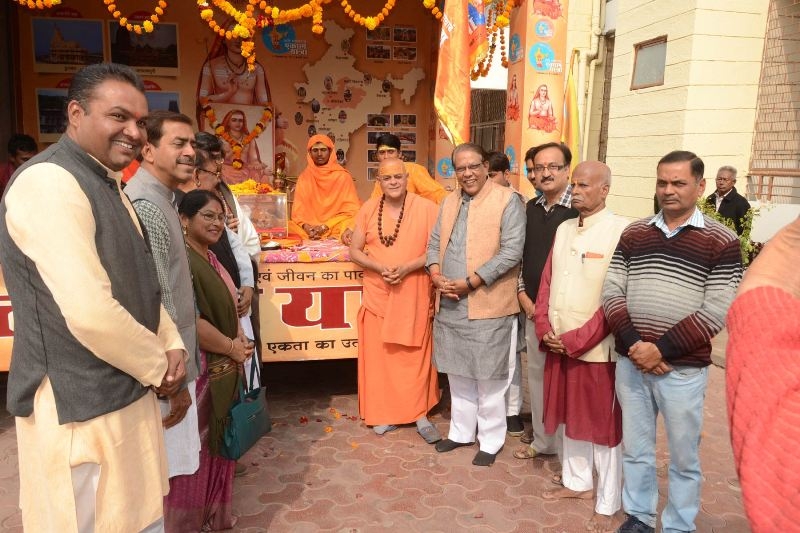 ---
Revenue Minister Gupta undertakes yatra with Shankaracharya's charan paduka
Bhopal:
Revenue, Science and Technology Minister Umashankar Gupta flagged off the Ekatm Yatra after performing dhwaj puja and worshipping Adi Shankaracharya's charan-paduka at Banganga on Saturday. The yatra that started from Pachmatha Rewa on December 19 reached Bhopal. Gupta carried the charan-paduka of Shankaracharya on his head and participated in the yatra.The yatra was welcomed at several places by citizens with flower showers. MLA Rameshwar Sharma walked with the dhwaj in the yatra.
Jan-Samvad at Ambedkar Jayanti Park
A Jan-samvad was organized at Ambedkar Jayanti Park situated in Panchsheel Nagar when the Ekatm Yatra reached there. Kalash Yatras from various wards joined the jan-samvad.
Umashankar Gupta said during the Jan samvad that the country's welfare lies in abiding by the religious beliefs. He said that in ancient times, the raja would be punished by only dharma-dand. Gupta said that Adi Shankaracharya established maths in the four corners of the country for the unity and integrity of the country. He said that they should take a lesson from Adi Shakaracharya's teachings.
Gau-Samvardhan Board Chairman and Mahamandleshwar Akhileshwaranand Giri Maharaj said that out spiritual tradition makes India a Vishwa Guru. He said that Shankaracharya gave Adwait Darshan to the entire world. Adi Shankaracharya got the title of Guru in Omkareshwar hence the decision to establish his huge statue here was taken. Ekatma Yatra will pass through 22 thousand gram panchayats and 52 thousand villages. Mahant Chandramadas Maharaj also put forward his views.
Minerals Corporation Chairman Shiv Choubey gave information of the Yatra's objectives. Earlier Paduka, Dhwaj and Kanya pujan was performed and people were administered the oath for ekatmata.
Among those present in the Jan-samvad were Swami Srinivas and other seers from Bengaluru, Minister of State (Independent Charge) for Cooperatives Vishwas Sarang, Mayor Alok Sharma, MP Alok Sanjar, MLA Surendranath Singh, former Mayor Smt. Krishna Gaur, Nagar Nigam Chairman Surjit Singh Chouhan and citizens.-
Window To News