Quick-ish Ricotta Dumplings in Tomato Broth
Thursday - January 25, 2018 11:18 am ,
Category : RECIPES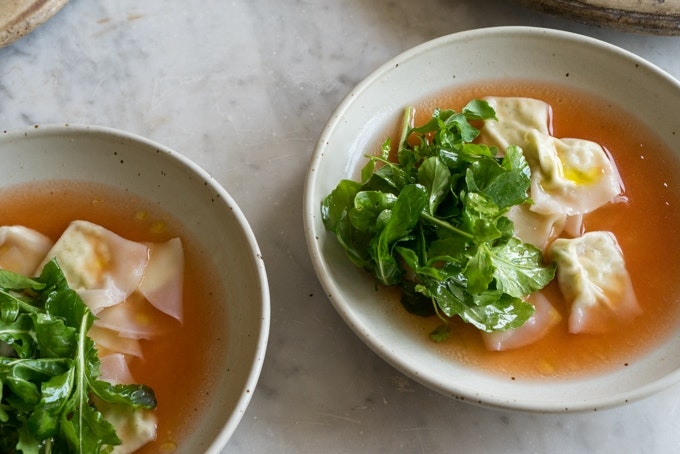 ---
Ingredient:

28 ounce can of whole or crushed tomatoes
40 potsticker dumpling wrappers
1 1/2 cups / 12 ounces ricotta cheese
2 tbsp pesto
3 tbsp extra virgin olive oil, plus more for the arugula
1/4+ tsp fine grain sea salt

Method:
for serving: arugula tossed with a splash of extra-virgin olive oil, and a pinch of salt

Place the tomatoes in a strainer, catch the tomato water that comes through the strainer in another bowl. You want to get as much as possible. Stir, smash, and stir some more. Let it drain while you're making the dumplings. You should be able to get 1-2 cups, and reserve the solids for another use.

Make the ricotta filling by combining the ricotta, pesto, 2 tablespoons of the olive oil, and salt in a bowl. Mix well, taste, and adjust, with more salt or pesto, if needed. It should taste great on its own.

Working quickly (you don't want the wrappers to dry out), arrange twenty of the dumpling wrappers on your countertop. Place a small dollop of the ricotta on each wrapper, just off center. Run a wet finger around the rim of each wrapper, press the edges together well, and try to avoid trapping air bubbles in the dumplings if you can. Pinch the edges together forming a "hug" shape (see photos or video). Arrange on a parchment lined baking sheet until you're ready to cook the dumplings.

Get your tomato broth ready by combining 1 cup of the tomato water with 2 cups of water, scant 1/2 teaspoon salt, and the remaining 1 tablespoon of olive oil (alternately, you can use shallot oil* here), in a small saucepan. Bring to a simmer, taste, adjust, set aside.

Boil as many dumplings as you think you'll want in well-salted water (you can freeze any remaining), until they float plus another 20-30 seconds. Lift out with a strainer, gently shake off any residual water, and place in bowls. Ladle tomato broth over the dumplings, and top with arugula.
RELATED NEWS
January 24th, 2019
January 24th, 2019
January 24th, 2019