Cucumber Peanut Salad
Thursday - February 1, 2018 11:12 am ,
Category : RECIPES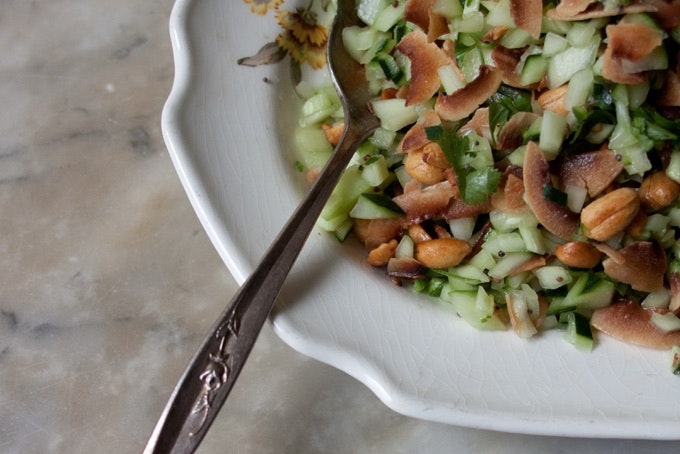 ---
Ingredient:

3 medium cucumbers, partially peeled
1-2 green serrano chiles, stemmed and minced
1/2 cup / 2.5 ounces / 70 g peanuts, toasted
1/3 cup / 1.5 ounces / 45 g dried large-flake coconut, toasted
2 tbsp fresh lemon juice
1 tsp natural cane sugar
1 tbsp, ghee, clarified butter, or sunflower oil
1/2 tsp black mustard seeds
1/4 tsp cumin seeds
scant 1/2 teaspoon fine grain sea salt
a handful cilantro, chopped

Method:
Halve the cucumbers lengthwise, scrape out the seeds, and chop into pieces roughly the size of pencil erasers. Just before you're ready to serve, transfer to a mixing bowl and toss gently with chiles, peanuts, coconut, lemon juice, and sugar.
Over medium heat melt the ghee in a small skillet. When hot stir in the mustard seeds. They are going to sputter and spit a bit, and when this starts to happen, add the cumin for 15-30 seconds, just long enough to toast the spices. Cover with a lid if needed. Remove from heat, stir in the salt, and immediately stir this into the salad. Turn out onto a patter topped with the cilantro.

Once just tender, uncover, turn up the heat, and cook until the flat sides are deep brown and caramelized. Use a metal spatula to toss them once or twice to get some browning on the rounded side. Remove from heat and drizzle and toss with as much (or little) oregano pesto as you like. Season to taste, and serve sprinkled generously with the almonds as soon as possible. They really are best straight from the stove top.
RELATED NEWS
January 24th, 2019
January 24th, 2019
January 24th, 2019