Government committed to provide funds to drought affected farmers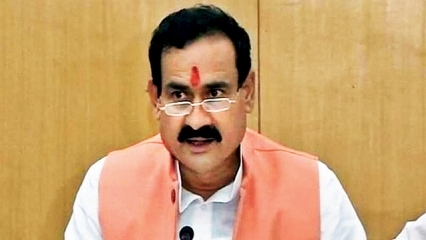 ---
Public Relations Minister Dr. Mishra tours in rural areas of Datia district
Bhopal:
Public Relations, Water Resources and Parliamentary Affairs Minister Dr. Narottam Mishra on Sunday toured drought-hit villages Ganesh Kheda, Hatval and Katili village of Datia district and took stock of the situation. Dr. Mishra asked farmers whether the drought relief amount had been deposited in their accounts or not. Most of the farmers said that they had received the amount.
PR Minister told farmers that the farmers who have not received the drought relief amount can provide the essential documents to the concerned Patwari and get the process moved further. He said that the state government is committed to pay the approved relief amount to each affected farmer. Government stands in support with the farmers at this hour of crisis. He told that an arrangement of beneficial Minimum Support Price has been made for the farmers in the Union Budget also.
PR Minister also took stock of the progress of Bhavantar Bhugtan Yojana in rural areas. Representatives of 483 farmers of Hatval village expressed their gratitude towards the PR Minister and the state government for approval of Rs 22 lakh 68 thousand by the state government.
New school building at Udgawan village
PR Minister Dr. Mishra told the farmers of Udgawan village of Datia district that more than Rs 86 lakh relief amount has been approved for the drought affected farmers of the village. He inaugurated the newly constructed building of the Government Higher Secondary School in Udgawan. On the occasion the Public Works Department was felicitated with a citation for completing the construction of school building on time. Chief guest Dr. Mishra said that the state government has worked on priority basis to make maximum facilities available in the field of education. For this an arrangement of necessary budget has also been made. This is the reason for the improvement in the intellectual level of students also. The scenario of school education has been improved with arrangements of teachers of various subjects, hostels, scholarships, uniforms and text books. Students are being provided education in a good atmosphere through construction of laboratories and well-equipped buildings.-
Window To News
RELATED NEWS

February 18th, 2019
February 18th, 2019