Instant Pot Mushroom Stroganoff with Vodka
Thursday - February 8, 2018 11:12 am ,
Category : RECIPES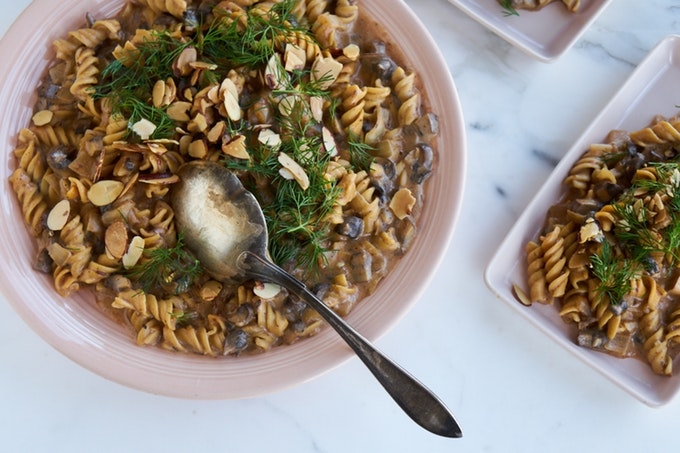 ---
Ingredient:

1 tsp caraway seeds, crushed
1/3 cup vodka
1 tbsp extra virgin olive oil
1 medium yellow onion, chopped
3 garlic cloves, peeled and chopped
1 pound brown mushrooms, stemmed, chopped 1/2-inch
2 tbsp tomato paste
1 tbsp flour
2 tbsp Dijon mustard
3/4 tsp fine grain sea salt, plus more to taste
1/4 - 1/2 tsp freshly ground pepper, or to taste
1 3/4 cup mushroom broth (or vegetable broth)
2 cups dried pasta (see headnotes)
1/2 cup homemade cashew cream*, or almond milk

Method:
to serve: lots of dill, or chives and some toasted almonds
In a small bowl combine the caraway seeds and the vodka, set aside. Sauté the olive oil and onions in the Instant Pot on the highest SAUTE setting for a minute or two. Stir in the garlic and mushrooms, and cook for a few minutes more, until everything softens up a bit. Stir in the tomato paste, and then the flour, and cook, stirring gently, but constantly for another few minutes, to toast the flour a bit. Add the vodka-caraway mixture, mustard, salt, pepper, broth, and pasta. Give one last stir to distribute the pasta evenly, and press CANCEL to stop the SAUTE.

Close the pot, and secure the lid. SEAL the valve. Select PRESSURE COOK (or MANUAL) and calculate your cooking time. To do this, refer to your pasta package, the time will be half of the shortest recommended cooking time, rounded down to nearest minute. For example my pasta package recommended 7 - 9 minutes. Take the smaller number (7), cut in half (3.5), round down to nearest whole number (3).

SET/ADJUST TIME - in my case, to 3 minutes. When finished, carefully QUICK RELEASE pressure by shifting the valve to VENTING. Gently shake or tap the pressure cooker, and then carefully open away from you. Stir in cashew milk. Taste and adjust seasoning, serve topped with lots of dill and almonds.
RELATED NEWS
January 24th, 2019
January 24th, 2019
January 24th, 2019