Plz Don't Shame", Chrissy Teigen Goes Topless as She Flaunts Her Baby Bump While Throwing a Salad-Making Technique!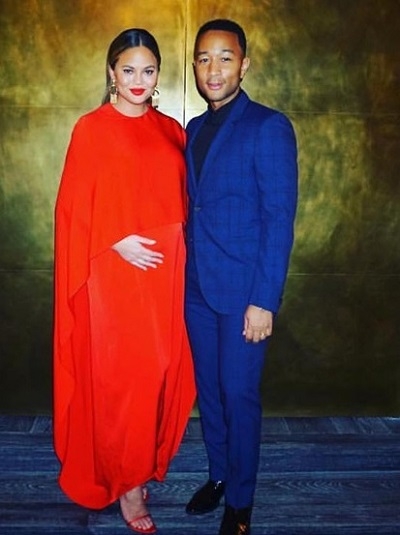 ---
Mommy Teigen is pregnant for the second time, and all witty in her ways repeat or boring is not Chrissy's style. Adding spice to her pregnancy timeline, top model mommy debuts her salad recipe soaked in sarcasm as she flaunted her baby bump. Chrissy Teigen just debuted a hilarious new salad-making technique.






Chrissy is expecting her second child a boy, and as she tries to fix her mood swings, she decided to have a salad - all organic. "plz don't shame me I am a strong, proud salad making woman just being natural and trying to live my life, says Chrissy Teigen as she posted her picture wearing skin all in her Sarcasm with spicy salad recipe.

Chrissy and John are one couple who enjoys cooking and tries on new recipes over their SM. Hosted by Gwyneth Paltrow's, "Real Men Eat Goop", video series's debut episode, the singer John Legend threw a recipe lesson of how to make mouth-watering chicken wings that Teigen thrives off. "Chrissy loves it, and I love making it," Legend explained, before revealing his secret flavour weapon: plenty of Lawry's Seasoned Salt.





Mommy to be of second child Chrissy Teigen is not very simple in making news, and keeps adding flavours and spices to her pregnancy timeline. Earlier the model revealed the sex of her coming baby at the Grammys2018. Chrissy flaunted her fully blooming baby bump at the Grammys award night 2018 last month; mommy Chrissy captioned her glamorous and glorious picture from the red carpet stating" mama and her baby boy" disclosing to the world that she is going to be mommy delivering a baby boy.

Teigen and Legend who got married in Italy in 2013 are already proud parents to a 19-month-old daughter Luna.- Window To News
RELATED NEWS
February 21st, 2019
February 20th, 2019
February 18th, 2019