Low-Earth Orbit Satellite Technology to Swoon High Speed Broadband Networks Soon, Courtesy Elon Musk SpaceX!
Thursday - February 15, 2018 5:00 pm ,
Category : WTN SPECIAL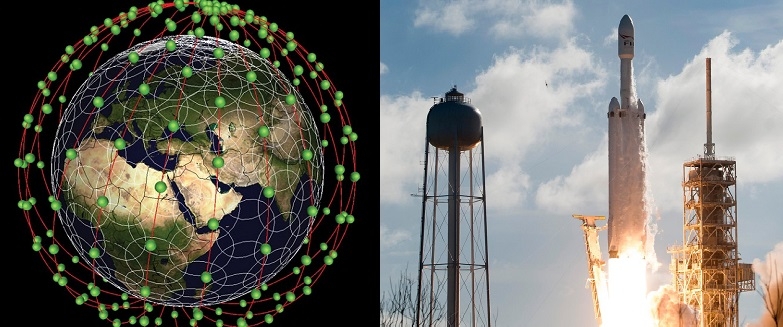 ---
By Jaya Khare
The year 2018 has knocked on best for the space giant techy Elon Musk. The designer, engineer and the CEO of SpaceX is holding dreams which are evoking to life now. First, the launch of Falcon Heavy SpaceX, which marked its debut into the blue skies. Lately the world most powerful, SpaceX's Falcon Heavy, rocket shoot into space from the Florida Launch site, another advance in the series for billionaire Elon Musk's Rocket Company SpaceX is the launch of two test low-earth Orbit Satellite.

On to the another leap, the plan the tech giant is working for many years and was into the description of it many a times, where he plans to launch thousands of low-orbiting satellites that will be able to provide high-speed internet to the people around the world is set to Swooning soon
with the days nearer for the launch of the first round of prototypes. According to the reports the first two test satellites will be placed into the orbit this weekend.

In the recent letter the FCC, Federal Communications Commission's permitted SpaceX to puts the two experimental satellites Micro sat 2a and 2b, will launch on Falcon 9 placing these satellite into the orbits along with the Spanish Government satellite and is scheduled to take off on February 17th. Falcon 9 is a specialist now and has made numerous trips to space to place the satellites into the orbit apart from delivering and returning the cargo in the past.
Static fire test of Falcon 9 complete—targeting February 17 launch of PAZ from Vandenberg Air Force Base in California.

— SpaceX (@SpaceX) February 11, 2018
The FCC Chairman Ajit Pai proposed approving SpaceX's application "to provide broadband services using satellite technologies in the United States and on a global basis. The SpaceX plans to put all of its low-Earth orbit satellite broadband networks providing satellites into the orbit by 2024. - Widnow To News