Can this be a Call Of Coincidence: IN THE NAME OF GOD Vs Punjab National Bank Scam?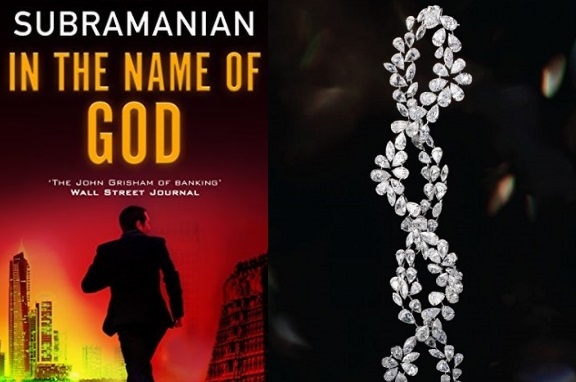 ---
By Jaya Khare

A modus operandi M.O, for breaking the long unseen secretive stories are always source (Khabri). Who will ride high ahead and for how long? Depends upon the ability to dig the truth irrelevant of the source. What then Ravi Subramanian was writing, who knew will come as the script of scam.
It was knocked first on the doors of CBI on January 29, 2018. The Book published by Ravi Subramanian "IN THE NAME OF GOD ", which was the author's 9th book on the thriller Bank series was Published on June 28th, 2017

Who would have then thought while reading, the fiction thriller between the lines, the story "IN THE NAME OF GOD " will soon turn to be the story by a fortune teller?

Ravi Subramanian's book IN THE NAME OF GOD that released last year had a banking fraud story where the central fraudster was a powerful jewellery trader he mentions is by the name - Nirav Choksi( combo of two names, actually). The two main jewellers in the current PNBFraudCase are Nirav Modi & Mehul Choksi


Ravi Subramanian is an Indian author. A former banker by profession, Subramanian has written dozens of popular thrillers books about banking and bankers, including award-winning trilogy The Incredible Banker, The Bankster and Bankrupt.The IIM Bangalore graduate the author has spent almost twenty years deep diving in the Indian Financial Market. Mr Ravi Subramanian is now the CEO of a listed Non-banking financial company.

Alongside writing the author writes columns for magazines and has his weekly column in Economics Times. Subramanian says "I will be satisfied if people remember me as the Grisham of banking."About John Grisham who is an America bestselling writer, attorney, politician, and activist best known for his acclaimed legal thrillers.

As shared by the author over the SM the book then was written Ravi Subramanian, Published on June 28th, 2017, the chapter 6 of the book mention of two suspects under one name (fiction), who are also the main fraudulent in the PNB scam Case. Mehul Choksi is the uncle and business partner of Nirav Modi, the duo who have committed the fraud of 11400 crores.Chapter Six: Mumbai; Nirav Choksi, a name the who's who of Mumbai had on their speed dial, designed and manufactured customised jewellery for the rich and famous all over the world. He was often referred to as the Indian Joel Arthur Rosenthal, one of the world's most exclusive jewellers whose high flying clientele included Elizabeth Taylor, Elle Macpherson, Kim Kardashian, Michelle Obama and even the Princess of Jordan. Nirav Choksi's client list boasted the marquee names on the social circuit- politicians wealthy Indian Businessmen, film stars.
It probably is! @additiyom :)))) https://t.co/FkoAKxp3Nj

— Ravi Subramanian (@subramanianravi) February 17, 2018
Choksi wielded a fair bit of clout on the jewellery trade in the country. A man with both contacts and influence, he was an extremely sought after guy in the political circuit for skills with went beyond jewellery design........ - Window To News
RELATED NEWS
December 17th, 2018
December 16th, 2018
December 15th, 2018