Kamiya Jani, Tanveer Taj, Culture Fox, The Blueberry Trails will speak at the second Edition of Gypsy Travel Fest!
Thursday - February 22, 2018 9:59 pm ,
Category : TRAVEL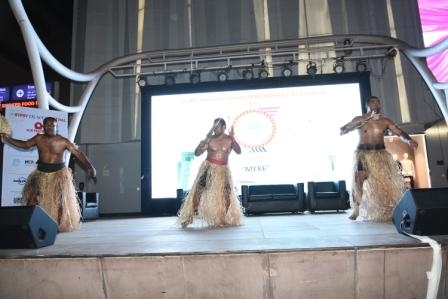 ~The festival is India's only Business-to-Consumer curation aimed at tackling all your every travel needs~
Mumbai:
In 2017 Mumbai played host to India's only Curated, Business to Consumer Travel event in the form of the Gypsy Travel Festival. The festival hosted by The Gypsy Travel Network, was gathering of the biggest destination experts, brand and opinion leaders in the experiential travel sector. It was be the only event of its kind where potential travellers could interact directly with the industry specialists to plan, customize and even book holidays, all on one platform. This year they are back again with the second edition, The Gypsy Travel Festival 2018!!
Gypsy Travel Festival 2018 #TGTF2018 will witness big-ticket partners like Luxury Escapes and participation from names like GlobusCosmos (International luxury travel & tour operators), Rare India, Blueberry Trails, Toe-Hold Photography, Active Holiday Company, Jack and Hill Adventures, Luxetrot, Countryside Adventures and many many more amongst others. Eager travelers will get a chance to interact directly with the destination experts to plan, customize and even book holidays on one platform. A plethora of industry experts will give you first-hand information on off-beat and new destinations, travel dynamics, how to economize your holiday, fast tracking your visa processes, and a lot more. Special Israeli and French Cuisines will be curated exclusively by Savor Kitchens.
#TGTF2018 will host interactive sessions with Kamiya Jani Founder of Curly Tales), Tanveer Taj (The Road Shaman), Learn how to take better photos with your smart phone in an exclusive workshop by Jayant Sharma, India's leading wildlife photographer, Master the art of Origami in a mesmerizing workshop by The Indo-Japanese Association or simply learn how to set up your own tent with an interactive session with Johann Daniels of Jack and Hill Adventures amongst many others only at The Gypsy Travel Festival 2018
When asked what led them to the idea of #TGTF2018, Sumit Lulla, said, "In India, there is a clear disconnect between the traveller and the destination due to the convoluted flow of information that gets lost amongst different intermediaries. This disconnect affects the perception of any potential traveller in terms of accessibility, desirability and the notability value of a destination. The #TGTF2018 hopes to take the first steps necessary towards commercially bringing about change in how Indians perceive travel."
Nelson Noronha, said, "The unique participants and businesses represented at the Gypsy Travel Festival 2018 all share the same vision and are top industry experts who are constantly innovating and trying to bring about new change in Indian travel habits. Despite the limitations of the Indian passport, we have travelled the length and breadth of the planet and wanted other fellow Indian travel enthusiasts to be able to experience the same. We want #GTF2018 to springboard a new generation of travelers into having unique personal travel experiences themselves."
With The Gypsy Travel Festival Sumit and Nelson have set out to achieve one goal, That is to educate the Indian traveller that to travel simply isn't a means to get away from the bustle of our chaotic Indian lives but its a gateway towards experiencing something ethereal. That's exactly what they achieved with their inaugural event and seem to continue in that tradition with The Gypsy Travel Festival 2018.-
Window To News
RELATED NEWS
April 18th, 2019
April 16th, 2019
April 15th, 2019