Outdoors this Summers!!
Monday - March 5, 2018 3:28 pm ,
Category : WTN SPECIAL

---
By Jaya Khare

Studies suggest, its easier to get into any new activity or to exercise methods. However, following it on a regular repeat basis is the challenge.

The arrival of summers is a refreshing time to push back self to get a grip on fitness, focusing on the right health with defining forms helps to glide away from the gloominess of the winter weather.

Mingling with the mother nature to spent weekend and holiday in the open with friends and families in outdoors is a smart idea when pushing one over along in tedious exercising methods are tiring, which leads to give up on the boring regular ways of any exercising activity.

As the weather is warming up, it's an excellent time to plan how to shed those extra kilo's while absorbing the energy from the miraculous nature to rejuvenate with while enjoying the natural beauty.Many people go through seasonal depression and cabin fever in winters; summers brings vibrancy to the thoughts and energies the body. Cool summers enrich natural beauty, and it seems as if mother nature is offering ideas to see the beauty in surroundings. This message is especially for those who've never had "Real Break", from their tedious routines.

Ideas which can lift and regulate one selfs BMI, to take the further match with the harder and more regular kind of physical activities like gaming, dancing, strength training, swimming or any other way of rigorous exercising.

Gardening

Terrace gardening is opt., Sheeri Sahu, a mother of two boys, this year appearing in Board exams, and she is also running a manufacturing industry of nut-bolts. Ms Sheeri says, her schedule is overly packed and tiresome. It's hard for her to pick up some scheduled exercising routine. Early morning with kids Chios and succeeding returning late form factory, she hardly gets any time for self and even if she has some, her body does not approve as she finds herself dog tired of kicking some hours at the gym.

Such lifestyle leads her to weight gain and profoundly poor Body Mass Index. One day a friend who visited her suggested and motivated her to take up her hobby of Gardening.Heeding her voice, Sheeri had planted her backyard and a vast terrace garden with flowers and seasonal vegetables. Sharing with us that, most flowering plants bloom in this summers her facelifts up with cheer. She now has sown Zinnia, a variety of Dahlias, Jasmine, Easter lilies, and types of Roses. Ms Sheri said, "I am just waiting for the Easter Lilies to bloom. I got the terrace garden built around five years back, and every year I sow vegetable seeds also. This time again my garden will bloom brightly. Every morning I spend about 2 hours on the terrace, and it rejuvenates my soul."

Reigning colours pick up shopping!

Shopping is a perfect calorie-burner, Not internet shopping. With sales at Baazars and discount offer at malls hit the season. One does not necessarily have to burn out the pocket. Window shopping helps too filling with perfect ideas for latest trends and creativity. For colours is the just right call of time. Rajni Singh is an excellent dress designer who does all mix n matching and patching for self, says going out to the market during my weekend breaks after the office is my favourite part of the week. I celebrate my trip to old chowk. She says, "I find the days depressing packed in the room, I Like to go out for fashion shopping; rather of killing my hours over the net". Speaking about the colour of summers she says, "Sunny is the colour of the season. The market is full of this colour. I recently bought myself a bright yellow flowy dress and believed me it just became an instant hit among my friends.But yes, I teamed it up with the free-spirited red nail paint. So, the cue is to wear light and whites in a mix of bright colours to welcome the summer season."


Trek to Explore
If you are high on energy, trekking and joint activities in your Society or a residential Colony is the mind-blowing mantra. Many sports leagues and trekking teams start their registrations post winters. How about being a part of them. And if not, why not start the cycling team that can explore new trekking paths or help you know your city better. Supporting this, Ms Bindiya Kharb said, "I am a part of the eight-member cycling team in my area. Though we do not want it to become a big group, a lot of people do approach us to be a part of it. We started just this, a year back and now we are cycling like professionals. Our group zero down plans for short cycling trips every weekend. And now even I have started going for EPR( endurance performance ride), where the rider has to finish 100 km in 7 hrs.

Take a Walk

Well not literally. Though morning walks are ideal, walking any time of the day serves the purpose. Of course, the idea must not be to burn the calories alone, but rather enjoy the trip. "An evening or late evening walk allows you to appreciate nature in more ways than one. The little stray shoots, wandering puppies, the variety of birds and their chirping and a lot more are a gift that one enjoys. Such walks help clean and sort your mind," says Richa Satyawadi, a government employee.

Plan a Tour

Beginning of summers is also the right time to head for an amusement park or plan a safari.There no need for any occasion for celebration if one is happy. Splashing water anyways makes you giggle and blood to rush, plan to hit the water. It is the right time just before the sun gets too hot,"

Mukta, Anshu and her kitty friends have grand plans. Mukta and Anshu reveals that women have planned a Jungle Safari along with their kids. Yashi regrets as she cannot accompany them with examinations right around the corner. However, Ms Verma adds that he plans single day trips to places like Van Vihar National Park, Tawa Churna Boating & Jungle Safari or to Mandu is on her mind. Mandu Malwa Resort is such an opt.

Relive Hobby
Well, if you thought only kids and those with a lot of time can afford to indulge in hobbies then you are definitely on the wrong track. And if you believe artwork means perfection, then you are even more wrong. Dr Bini Ghosh is a professor but has been trying her hand on photography also. Laughing she said, "Earlier I can't be even aware of cameras, but when my husband motivated me I started clicking photographs and not I many a time plan trips outdoors according to my photography subjects. My husband pursues photography as a profession, and presently I am just clicking the way my heart feels. I think my heart feels better already." -Window To News
RELATED NEWS
December 12th, 2018
December 11th, 2018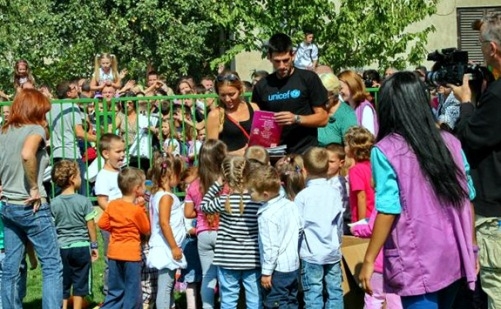 December 11th, 2018