Share your Stories with Salman Khan, and The Actor Will Share it With the World."Look Good - Do Good."!!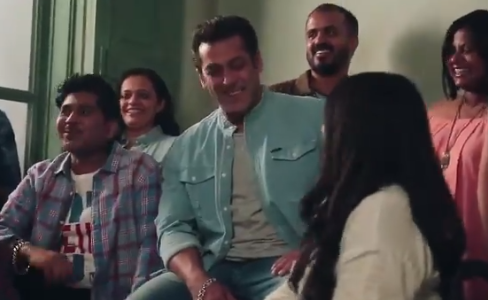 ---

An initiative to help raise those who look forward to helping others is being human. A strong reflection of looking good outside, "Look Good - Do Good."

Being Human, being selfless and putting forward others to help them achieve an extra mile. Praising the inner beauty the Bollywood actor Salman Khan is set to race an extra mile.

Race 3 hero being Salman has always known for his philanthropic behaviour and helping others. Taking ahead his goal to provide better opportunities to those being human the actor is set to present real-life heroes.

Over his SM the actor said, "It's time to #LookGoodDoGood for all of us. I'm going to be sharing stories of heroes who have gone several extra miles - put someone else first, shown courage, selflessness & managed to fight for their cause n stay right to everything they stand for.

The first story comes from the superstar Salam Khan is of Mr Ankit Kawatra, who founded 'Feeding India' an initiative to feed the hungry and poor. In 2014 Ankit had the realisation that he can utilise the food to feed the hungry and needy which go waste in restaurants and wedding receptions. One night he witnessed food for at least 10,000 people getting wasted in a wedding. His NGO serves nutritious meals to those in need by collecting extra food from restaurants, colleges, and homes. It has served 11 million meals to date. Ankit believes that only sharing makes us more human.
With the #LookGoodDoGood campaign we wish to celebrate these unsung heroes by sharing their stories with everyone. So share your story or nominate someone and the hero of the story could be featured in our next campaign! Details here : https://t.co/b5O89sfdbB . @bebeinghuman pic.twitter.com/OErLpVbxwG

— Salman Khan (@BeingSalmanKhan) March 10, 2018


Guys, one can go famous and let the world know of great effort and let others join you to reach and spread the good work to the wider world. Click the like below to share your work with SalmaKhan.- Window To News




With the #LookGoodDoGood campaign we wish to celebrate these unsung heroes by sharing their stories with everyone. So share your story or nominate someone and the hero of the story could be featured in our next campaign! Details here : https://t.co/b5O89sfdbB . @bebeinghuman pic.twitter.com/OErLpVbxwG

— Salman Khan (@BeingSalmanKhan) March 10, 2018
http://www.beinghumanclothing.com/lookgooddogood/
RELATED NEWS
December 17th, 2018
December 16th, 2018
December 15th, 2018