Farmers using agriculture equipments to transform farming into a profitbale occupation
Bhopal:
In order to make agriculture a profitable occupation, farmers are now using modern agriculture equipments immensely in the state. This has been showing unprecedented increase in their income. Moreover, the farmers are also adopting other tributaries professions linked with the agriculture.
Sehore District
-Farmer Bhagwat Singh Pawar, the resident of village Rala of Nasrullahganj tahsil of district Sehore, says that he was using seed drill machine for a long time during the sowing on his 3 acre irrigated land by taking it on hire. He had to spend a good amount towards the rent of this machine. Sometimes, he was not able to get the machine on time. When he came to know about the agriculture equipment purchase scheme, on which subsidy is also given, he also purchased the seed drill machine under the scheme after the discussing the problem with the officers of the Farmers Welfare and Agriculture Development department. He also received subsidy of Rs. 15 thousand on this. Now, he has been able to sow his land properly, as a result his income has increased.
Bhopal District-
Field staff of the Agriculture Engineering office of the state government has suggested Tirath Singh of village Bijapurto to use agriculture equipments on his farm. He tilled his farm deep by using reversible plough, prepared the farm with the help of rotavator and grew soybean besides paddy by using spiral grader and seed treatment. He sowed soybean on 3 acre land, paddy on 2 acre land and obtained yield of 17 quintal soybean and 40 quintal paddy. Tirath Singh says that the production has increased and the cost has come down by using modern equipments. He is now suggesting other farmers to use modern equipments for farming.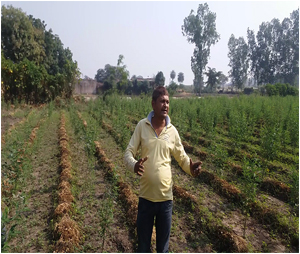 Chhattarpur District-
Dhirendra Chourasia of village Panagar of Bijawar block-district Chhattarpur was growing soybean, wheat and urad on his one hectare land with traditional method. It was difficult for him to take care of the family members with the income he was earning from the farming. He gathered information about the ATMA scheme of the Agriculture department, to get rid of his poor condition.
When he received information about the organic farming and cash crops, he installed polythene over the nursery of one k.g. seed. When the nursery was ready, he planted saplings at 3 feet distance and planted saplings in rows of 5 feet distance. He obtained over 300 times more production in comparison to the past and earned an income of Rs.60 thousand approximately. He further says that he is growing interchangeable crops like ground nut during Kharif and peas in Rabi season with this technique.-
Window To News