Farmers should also adopt Animal Husbandry along with agriculture
Thursday - March 15, 2018 2:01 am ,
Category : BHOPAL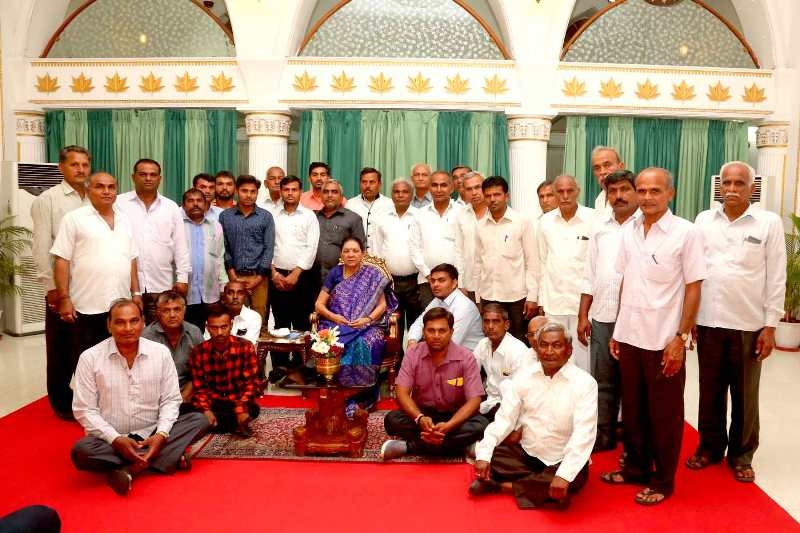 ---
Farmers' Delegation from Gujarat pays courtesy visit to Governor Smt. Patel
Bhopal:
A delegation comprising 50 farmers from Mehsana (Gujarat), who came to Madhya Pradesh to participate in ATMA project, being implemented in the state, paid courtesy visit to the Governor Smt. Anandiben Patel at Rajbhavan today. The governor told the farmers that they should implement things, whatever they have learned in the ATMA project and also brief others.
While deliberating with the farmers, the Governor Smt. Patel said that they should also focus their attention on animal husbandry and other business now to increase income. Adopt agriculture based industries too. Moreover, she told the farmers that despite water shortage, the farmers of Madhya Pradesh are increasing their income through farming and businesses related to it. Smt. Patel also urged the farmers to follow the slogan 'Beti Bachao-Beti Padhao' of the Pradhan Mantri.
Farmer Jignesh Chowdhary, who was part of the delegation narrated his experience as regard to the study of ATMA project to the Governor. The delegation conducted tour of Jabalpur, Indore and Dewas and studied efforts made by the farmers of these areas to increase their income by adopting other businesses along with the farming.
-Window To News