All Illegal colonies of M.P. to be made legal: CM Chouhan
---
Dedicates and lays foundation of development works worth Rs. 975 in Gwalior
Distributes benefits of Rs. 80 crore to eligible beneficiaries and registration cards to labourers
Bhopal:
Chief Minister Shivraj Singh Chouhan in a grand programme held in Gwalior today, has said that all the illegal colonies of the state will be made legal. Out of the total 6 thousand identified illegal colonies, 4624 colonies will be made legal in the first phase, including 63 of Gwalior and 58 of Dabra city.
Chouhan mentioned that rules will be simplified to make illegal colonies legal. He stated that after the statutory action, people will have rights to purchase and sold properties in these colonies and will be able to get loan from the banks for additional construction.
CM Chouhan dedicated and laid foundation of development works costing Rs. 975 crore in Gwalior district. He handed over keys of pucca houses to the beneficiaries of the Pradhanmantri Awas Yojana and distributed registration cards to registered labourers under the Asangathit Shramik Kalyan Yojana. Moreover, Chouhan distributed benefits worth Rs. 80 crore of various schemes among the beneficiaries on this occasion. He also helped male and female tendu leaf collectors in wearing foot wears under the Mukhyamantri Charan-Paduka Yojana.
Addressing labourers, tendu leaf collectors and large gathering present on the occasion, Chouhan mentioned that revolutionary schemes have been started by the state government to make poor and labourer families economically strong. Shromoday Vidyalayas like public schools are being opened to provide quality education to the children of labourers. He further informed that Sharmoday Vidyalaya costing Rs. 43 crore is ready in Gwalior. Moreover, he elaborated on public welfare schemes of the state government on this occasion.
Furthermore, Chouhan made an announcement to convert Hajira Hospital into 100 bed hospital. He also gave assurance to provide sufficient amount for construction of roads in Gwalior suburb. He also held discussions with Mayors of Ratlam, Indore, Jabalpur and Bhopal in connection to the development works of their respective areas.
Union Minister for Panchayati Raj and Rural Development Narendra Singh Tomar, while presiding the programme informed that pucca houses will be provided by the Union and State governments to each needy of Madhya Pradesh. The programme was also addressed by the Minister for Urban Development Smt. Maya Singh and Mayor Vivek Narayan Shejwalkar.
Minister for Higher Education Jaibhan Singh Pawayya, Minister for New and Renewable Energy Narayan Singh Kushwaha, Minister for Public Health and Family Welfare Rustam Singh, Member of Parliament Prabhat Jha, Member of Legislative Assembly Bharat Singh Kushwaha, Chairman General Poor Category Welfare Commission Balendu Shukla, Chairman of Gwalior Development Authority Abhay Chowdhary, Chairman SADA Rakesh Jadon, Chairman of Minority Commission Niyaz Ahmed and other public representatives were present in the programme.-
Window To News
RELATED NEWS
January 17th, 2019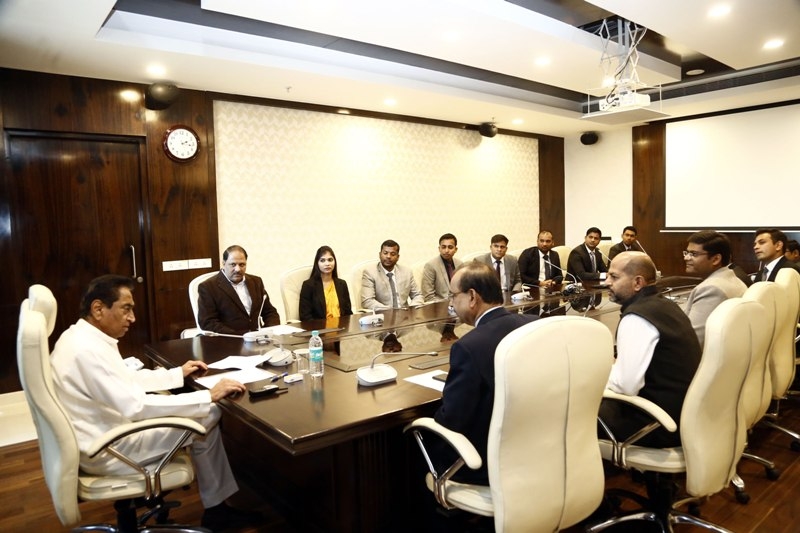 January 17th, 2019
January 17th, 2019