"Beneficiary Profile Registration" System begins for Schemes of SC-ST categories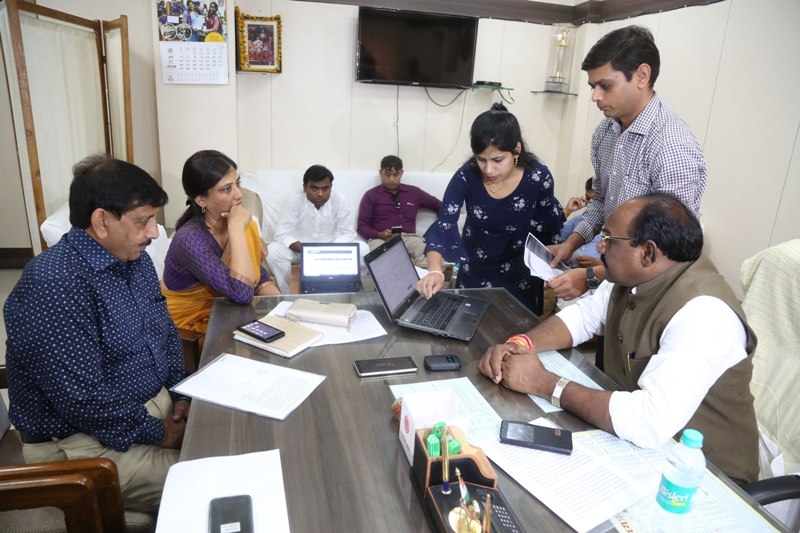 ---
MoS Arya inaugurates
Bhopal:
Minister of State for Tribal Affairs and Scheduled Caste Welfare (Independent Charge) Lal Singh Arya has inaugurated online 'Beneficiary Profile Registration' system, a new software to provide benefit of various scheme of the Tribal Affair and Scheduled Caste Welafre department, from his chamber at Mantralaya.
Commissioner Tribal Welfare Smt. Deepali Rastogi, Secretary Rajesh Mishra, Commissioner Scheduled Caste Welfare Anand Sharma and Additional Director Vikramaditya Singh were present on the occasion.
Arya started the system by registering adhaar number, digital caste certificate and Samagra I.D. number under the 'Beneficiary Profile Registration' on http://mpsdc.gov.in/tribal_reg. After the registration he received information about his registration on his mobile. Under the system the first registration was made from Bhopal. About 70 schemes have been made online and computerised under the system. An amount of Rs. 35 crore has been approved for this system. All the working procedures of the department are being studied, improved and simplified through this system. This will facilitate beneficiaries not to visit office repeatedly and applicants could avail benefits of the schemes from the departmental website and internet kiosks.
Arya has appealed to applicants belonging to the scheduled tribe and caste category that they must get themselves registered under this system at the earliest to derive benefits of government schemes. Registration under the system is made free of cost and easily. Registration helps the department to know about the identity of beneficiary, caste, income and domicile and educational details automatically.
Beneficiaries would be able to get benefit of several schemes by just registration. A pilot project of the profile registration has been started at Balaghat from May 10 and 470 persons have registered themselves under the system till now. Registration takes only 3 to 4 minutes. The software has been prepared with an objective to ensure benefit of various government schemes easily and transparently to beneficiaries belonging to scheduled tribe and caste of the state.
It was informed that there are few schemes, under which, it is must for beneficiary to apply separately through kiosk after the registration. For seeking admission in the hostel of the department, information about the vacant seat in all the hostels could be obtained by uploading unique I.D. on hostel module after the registration. Thereafter, candidate can apply online itself to seek admission in any hostel.
Separate modules for schemes of the department like Pratibha Yojana, UPSC Coaching, Civil Services Protsahan, Akansha, Cycle distribution scheme and others are also being prepared. Other several database servers have been integrated by the department in this software. The available information in these servers gets transferred automatically in the database of the department. Integration has already been made with UIDAI,NPCI, E-District and Samagra server. Action is being taken to integrate software with treasury, board of secondary education, CCTNS and other servers as per the requirement of other schemes.-
Window To News