How will BJP arrange 112 MLA's?
Thursday - May 17, 2018 10:52 am ,
Category : WTN SPECIAL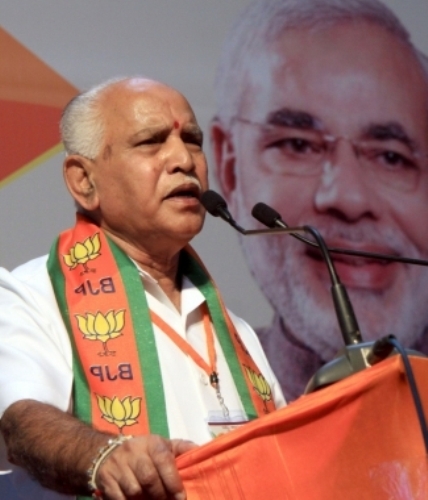 ---
Will few Congress and JDS MLA's revolt from party line?
MAY 17(WTN) - BJP's B.S. Yediyurappa has taken oath as chief minister of Karnataka. But his having taken oath, here the political drama in the Karnataka has reached its peak. The matter reached to the Supreme Court and court hearing was done in this matter till midnight, after Yediyurappa's being sworn in all are gazing at the chief minister of Karnataka B.S.Yeddyurappa. BJP emerged as the single largest party in the Karnataka assembly election, BJP but could not get the necessary 112 seats for the majority. In the election, the Congress has won 78 seats and JDS has won 37 seats. One seat each won by BSP, Karnataka Janata Party and an independent candidate. The only independent MLA has said to give support to the BJP, but still the BJP is 7 seats away from the 112 seats required for the majority.

It is believed that some legislators of Congress and JDS may remain absent during the vote of confidence in the assembly. The Karnataka Assembly has total 224 seats. Of these 224 seats, elections were held on 222 seats. So the 112 seats needed for the majority. But JDS leader Kumaraswamy has won the election from two seats, then he will have to resign from a seat. In such a situation, total number of seats will be 221 on flore test. Now for the majority BJP needs 111 seats, but even after the support of independents, the BJP will have only 105 seats. In such a situation, if 14 MLAs of the opposition being absent during the confidence motion in the assembly, so the total attendees will be 2007 during the confidence motion in the Assembly. Now in this situation, the BJP will need a total of 104 MLAs for the majority. Even if the BJP gets the support of an Independent MLA, then the BJP will have a vote greater than 104, that is, 105 votes.

But since the matter has reached to the Supreme Court, the Supreme Court has asked Karnataka Chief Minister B.S. Yeddyurappa to hand over the list of its supporters(MLA's) in the next 24 hours. But it seems that this will not be easy to hand over the list of 112 supportive legislators to the BJP. If the BJP gets the support of an Independent MLA, then only 105 supporters will be there with BJP. So how BJP will arrange remaining 7 MLAs? All of us have to wait that what is going to be happened.