War of words!
Thursday - May 17, 2018 12:05 pm ,
Category : WTN SPECIAL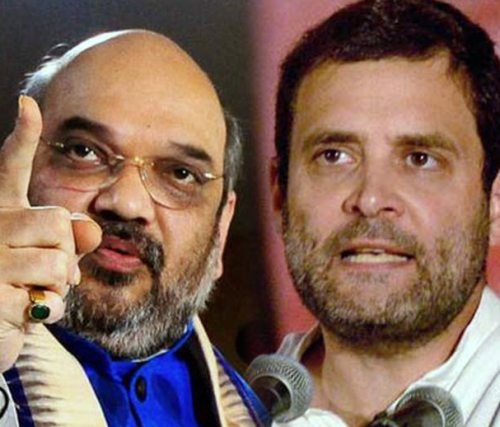 ---
"NATAK" in Karnataka!
MAY 17(WTN) - After the formation of the BJP government in the Karnataka, the war of words is continuing. After becoming BJP's government in the Karnataka, angry Congress national president Rahul Gandhi has targeted on the BJP. In his tweets, Rahul Gandhi took out a scathing attack on the BJP and said that the efforts of the BJP to form a government in the Karnataka are to make mockery of the constitution. In his tweet, Rahul Gandhi said, "The BJP's irrational insistence that it will form a Govt. in Karnataka, even though it clearly doesn't have the numbers, is to make a mockery of our Constitution.This morning, while the BJP celebrates its hollow victory, India will mourn the defeat of democracy."

After the results of the Karnataka assembly election, the statements of political party's leaders are continuing. This morning, the BJP's B.S.Yeddyurappa took oath as the Chief Minister of the Karnataka, since then the opposition has got stronger. The Congress, on the day of counting of the Karnataka assembly election, which was the second largest party with 78 seats, had brought the BJP in the trouble by saying that congress is ready to give support to JDS to form the government in the Karnataka. But the BJP said that since BJP is the largest party, so BJP should get an opportunity to form government. While the Congress says that Congress was the largest party after assembly elections in Goa and Manipur but they did not get chance to form government, so in Karnataka, the governor's decision is wrong.

But on the other side the BJP is giving its argument. It is said that everything is justified in the politics. BJP supporters say that 22 years ago in 1996, Congress in Gujarat had sacked the BJP government and imposed the President rule. Then where did ethics go? At the same time BJP supporters are giving examples of Kerala's 1959, when the world's first elected leftist government, formed under the leadership of E.M.S.Namboodiripad, was sacked by Congress government and then the president rule imposed, when the prime minister was Jawahar Lal Nehru. The argument is also being given that the Congress party which had imposed an emergency in the country is talking about protecting the constitution.

Congress and BJP supporters have their own logic. But the biggest question is that after all, how will BJP arrange 112 legislators for the flore test in the Karnataka assembly? The BJP has won 104 seats in the Karnataka assembly election and have support of an Independent MLA, the number of supportive legislators goes up to 105, but how will BJP arrange remaining 7 MLAs for support?