Is Amit shah correct in Karnatraka?
Thursday - May 17, 2018 3:01 pm ,
Category : WTN SPECIAL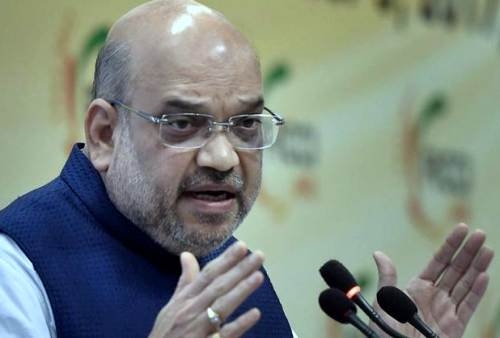 ---
BJP's Double attitude for Goa and Karnataka.
MAY 17(WTN) - As we told you before that after the formation of the BJP government in the Karnataka, the war of statements continues. But BJP national president Amit Shah has raised a new controversy by talking about the "MAJORITY CRITERIA" .The controversy is because the way of formatting government in the Goa is being said right while being said wrong in the Karnataka.

After B.S.Yeddyurappa's taking oath as the Chief Minister of Karnataka, Rahul Gandhi said "The BJP's irrational insistence that it will form a Govt. in Karnataka, even though it clearly doesn't have the numbers, is to make a mockery of our Constitution. This morning, while the BJP celebrates its hollow victory, India will mourn the defeat of democracy."

Now there was a chance in the battle of statements to the BJP national president Amit Shah. Amit Shah, while targeting the Congress, said," President of the Congress obviously doesn't remember the glorious history of his party. The legacy of Mr. Rahul Gandhi's Party is the horrific Emergency, blatant misuse of Article 356, subverting the courts, media and civil society. The 'Murder of Democracy' happens the minute a desperate Congress made an 'opportunist' offer to the JD(S), not for Karnataka's welfare but for their petty political gains. Shameful!"

But it is natural to ask questions to the BJP's national president Amit Shah's tweet. Because if it was a matter of denial by the public, then even in Goa, BJP had won fewer seats in 2012 assembly election, in 2012 in Goa assembly election, the BJP had won 21 seats, but in the 2017 assembly election, BJP could won only 13 seats. This meant that people of Goa had rejected the BJP. But why Amit Shah is implementing "SINGLE LARGEST PARTY" formula in the Karnataka and why did not implement this formula in Goa. So the "SINGLE LARGEST PARTY" Congress should have been invited by the governor to form the government in Goa in 2017, but this could not be done there.

The BJP should not adopt a double attitude. What is the meaning of separate formula for the Goa and the Karnataka? The BJP president's statement cannot be said correct. Whereas, what had done in the Karnataka is invert than to Goa. After this move of BJP, Congress should go to in the public in the next election with this matter and should ask for justice.