Why Kumaraswamy refused BJP's offer ?
Thursday - May 17, 2018 5:40 pm ,
Category : WTN SPECIAL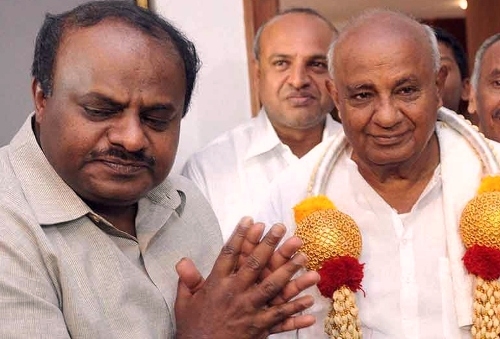 ---
Did BJP offer CM post to Kumaraswamy?
MAY 17(WTN) - B.S. Yeddyurappa of BJP has sworn in Karnataka. And at the same time, the political intimidation continues in Karnataka. But the question arises that clever politicians like Narendra Modi and Amit Shah, were not aware that the hung assembly is going to be formed in Karnataka. According to the opinion polls in Karnataka, it was said that the hung assembly may be possible, due to this, prime minister Narendra Modi had been softened towards former PM and JDS leader Deve Gowda during campaigning for the Karnataka assembly election. The prime minister, while targeting the Congress, had said that he personally respected Deve Gowda but Congress has insulted Deve Gowda. In such a situation, when Narendra Modi probably had glimpse about hung assembly, so why did not BJP already contact JDS to form government in Karnataka. This is a question that is in everyone's mind.

But the truth is that the BJP had already offered H.D.Kumaraswamy before Congress. But it is believed that Kumaraswamy has rejected this offer for his father's honor. According to a newspaper, KumarSwamy had got an offer to become the Chief Minister from BJP but he did not want to go against his father like in 2006.

According to the newspaper, Kumaraswamy admitted that with the help of some BJP sources, he was conveyed the formula of the government formatting, in this formula CM of JDS and BJP will work for two and a half years respectively. JDS would be the Chief Minister of BJP for two and a half years. But Kumaraswamy declined this offer. It is believed that Kumaraswamy did this, because once he had formed government with the BJP support, he had gone against his father and for this reason a lot of questions were being raised on the secular ideology of his father.

Well, Kumaraswamy knows better that he had got an opportunity from the BJP or not, and if he had got it, then why he rejected it. There are a lot of ups and downs in the Karnataka politics. It is necessary to see how the BJP will be able to prove its majority,.