Now move from Karnataka to Bihar!
Friday - May 18, 2018 10:01 am ,
Category : WTN SPECIAL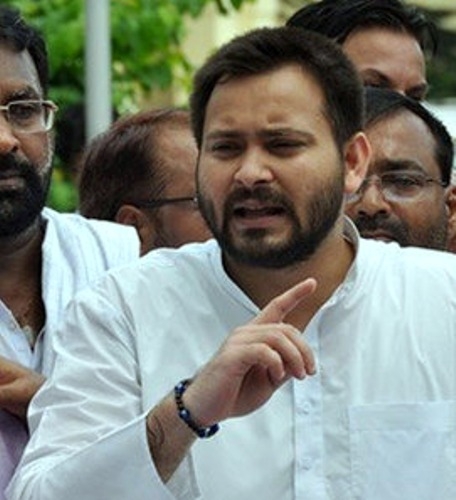 ---
Political drama in Bihar.
MAY 18(WTN) - After the BJP government swearing in the Karnataka, the progression of the political agitation continues throughout the country. After Goa, now it is being reflected in Bihar too. Former deputy chief minister of Bihar, Tejaswi Prasad Yadav, will meet with his legislators to governor Satya Pal Malik, and will present his claim of forming government. RJD leader Tejaswi Prasad Yadav has given the example of Karnataka saying that when the BJP has been given the opportunity to form the government after the election in Karnataka, so RJD is the biggest party in the Bihar, hence they should get an opportunity to form government.

Tejaswi Prasad Yadav said that even after the JDU's being out from the alliance with RJD and Congress, the alliance of RJD and congress was pre poll, so why did not the governor call RJD to form the government in Bihar? Yadav, citing the example of Karnataka's politics, said that when the largest party in Karnataka being invited to form the government, so RJD should be invited to form the government on the same pattern in Bihar. Let you know that in the assembly election in Bihar, RJD emerged as the single largest party and formed government with JDU and Congress. Later, JDU broke the coalition with the RJD and formed the government with the BJP.

Not only that,Tejaswi Prasad Yadav targeting the BJP, said that BJP is a party with the desire to change the constitution. Yadav has appealed to all non-BJP parties to come together. Yadav said that parties in BJP coalition (NDA) are also slowly getting away from NDA. Tejaswi Prasad Yadav appeals to the parties in the NDA to consider separating from the BJP.

There are a lot of questions arising on Karnataka's governor Vajubhai Vala's decision. Congress says that after the assembly election in Manipur and Goa, Congress was the single largest party, but Congress did not get the chance to form the government, whereas in Karnataka the BJP got the chance to form the government as being the single largest party, while BJP had the absolute majority. Congress says that they had claimed to form the government in the Karnataka with the JDS, because the Congress and JDS could have formed a complete majority government, but the Governor did not call them to form government and called Yeddyurappa to take oath whereas the BJP did not have majority. It is believed that the decision of the governor of Karnataka will be an agitation in the Indian politics.