Campaign to be conducted to deposit fee of educational institutions for poor family's children from July

---
No restrictions for beneficiaries' caste, creed and religion under Sambal Yojana
CM Chouhan distributes 13 crore bonus to 71 thousand Tendu Leaf Collectors
Balaghat becomes first district to issue Smart Cards to Unorganised Labourers Balaghat gets gift of development works costing Rs. 64 crore
Bhopal:
Chief Minister Shivraj Singh Chouhan has said that he will not let future of children belonging to poor family ruined. Fee of all the children belonging to poor family from class 1 to higher education will be paid by the state government under the Mukhyamantri Jan-Kalyan (Sambal) yojana. He further mentioned that a campaign will be launched from July month to deposit the fee under this scheme. Chouhan was addressing the convention of urorganised labourers and tendu leaf collectors at Balaghat today.
Chief Minister meets handicapped orphan girl child
When the Chief Minister Chouhan started returning from the convention, he saw a handicapped orphan girl child standing close to him. When he reached near her, she told him that her name is Kushvanti Nagpure and is a orphan and needs help. Chouhan immediately instructed the officers to arrange for an assistance amount of Rs. 2 lakh besides disabled person pension on regular basis.
Ku. Kushvanti became happy with the generosity of the Chief Minister and informed him that she has one sister, who is also a handicapped. The Chief Minister told the officers to help her sister too.
CM Chouhan stated that the Sambal Yojana is being implemented to bridge the gap between rich and poor in the society. There is no restriction of caste, creed and religion for the beneficiaries under the scheme. Every poor person and hard working person has right to avail benefit of this scheme. Elaborating on the scheme, Chouhan appealed to the people to derive maximum benefit from the scheme. Moreover, he made an announcement for survey by sending a team on demand raised for help of drought affected farmers of Katangi tahsil.
Moreover, Chouhan distributed bonus of about Rs. 13 crore online in the bank accounts of 71 thousand 125 tendu leaf collectors during the convention. He also helped tendu leaf collectors in wearing charan padukas and presented them water bottles on the occasion. Chief Minister also presented sarees to the women tendu leaf collectors separately He also distributed benefits of various other schemes to the beneficiaries and dedicated as well as laid foundation of 13 construction works costing Rs. 645 crore.
While distributing smart cards to urganised labourers in the convention, Chouhan said that smart cards contain all the information about the beneficiary. This card will help beneficiaries to get benefits of other schemes. He described the Balaghat district as the first district to provide smart cards to the beneficiaries. He said that special programmes will be organized at all the Janpad headquarters to distribute benefit of Sambal Yojana to the registered labourers on June 13.
Minister for Farmer Welfare and Agriculture Development Gaurishankar Bisen, President of Jila Panchayat Smt. Rekha Bisen, President of M.P. Asangathit Karmkar Kalyan Mandal Sultan Singh Shekhawat, member of Parliament Bodhsingh Bhagat, Members of Legislative Assembly K.D. Deshmukh and Dr. Yogendra Nirmal, other Public Representatives and labourers of unorganised sector besides tendu leaf collectors in large number were present in the convention.-
Window To News
RELATED NEWS
January 20th, 2019
January 20th, 2019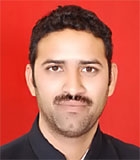 January 20th, 2019