Video of lady from Sehore Madhya Pradesh has gone viral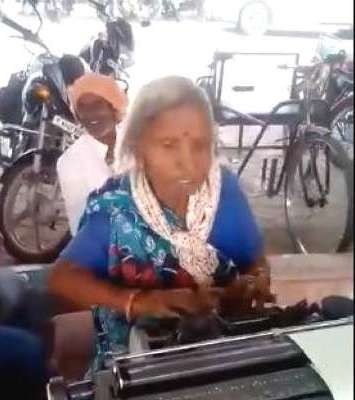 ---
June 13 (WTN)- Virendra Sehwag called this woman a superwoman.

She is a lady who sits outside collector's office in Sehore, Madhya Pradesh and typing official documents for people who approach her.

The video of her typing speed and using an old typewriter in the age of laptops was gone viral on social media. No doubt, she is inspiring you youth of today.
A superwoman for me. She lives in Sehore in MP and the youth have so much to learn from her. Not just speed, but the spirit and a lesson that no work is small and no age is big enough to learn and work. Pranam ! pic.twitter.com/n63IcpBRSH

— Virender Sehwag (@virendersehwag) June 12, 2018
This Video Is From Madhya Pradesh Where An Old Lady Infront Of Collector Office Works As A Hindi Typist And Types Documents And Drafts Of People.
Look At Her Speed And Enthusiasm At The Age When Most Of The Older Ones Stop Working.

Let's Make Her Famous As A Mark Of Respect. pic.twitter.com/BLImI6d2ZD

— SINGH (@HatindersinghR) June 10, 2018
–Window To News
RELATED NEWS
January 21st, 2019
January 19th, 2019
January 19th, 2019