7.5 times rise in compensation to banana producing farmers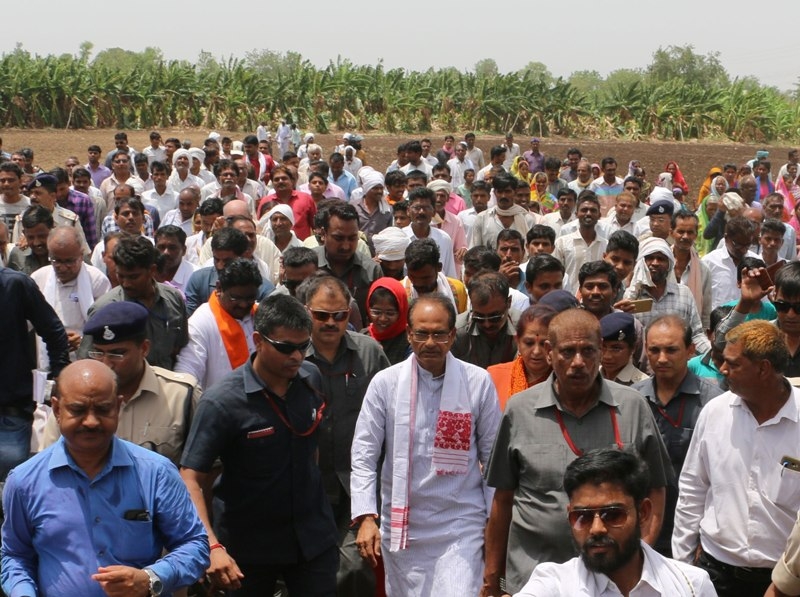 ---
CM Chouhan takes stock of windstorm-hit banana crops in Burhanpur district
Bhopal:
Chief Minister Shivraj Singh Chouhan today reached the fields to take stock of the banana crops destroyed by windstorm in Burhanpur district. Assuring relief from the losses to the crops to the farmers the Chief Minister said that the banana producing farmers will be given maximum compensation for loss due to natural calamity.
Chouhan announced that the state government will soon make amendments in the provisions of the Revenue Book Circular and will provide Rs one lakh per hectare compensation after increasing the compensation of Rs 13 thousand 500 payable to the farmers hiked nearly 7.5 times.
CM Chouhan said that in this hour of crisis, the state government stands with the banana producing farmers. Farmers will be provided relief from every problem. He said that I know the banana crop is very vulnerable, and if the stock of the sapling becomes crooked in strong winds, the whole sapling can get destroyed. Chouhan said to provide maximum insurance amount to the banana producers under crop insurance scheme, discussion will be held with the insurance company and the Government of India. The electricity bill of the farmers whose crops were destroyed will be paid by the state government. Recovery of crop loan has been postponed.
Small and marginal farmers will be paid wages under Rozgar Guarantee Yojana for cleaning the fields by removing the destroyed banana crops. The state government will pay the interest of crop loan of banana producing farmers and loan without interest will be made available to farmers for the next banana crop.
CM Chouhan visited the fields of farmer Kashinath of Umarda village and Anil Mahajan and Bhagwat of Shehpur and inspected the destroyed banana crops. Women and Child Development Minister Smt. Archana Chitnis, District Panchayat President Sanjay Jadhav and local public representatives were present on the occasion.-
Window To News