Stilton and broccoli soufflés
Saturday - August 11, 2018 11:06 am ,
Category : RECIPES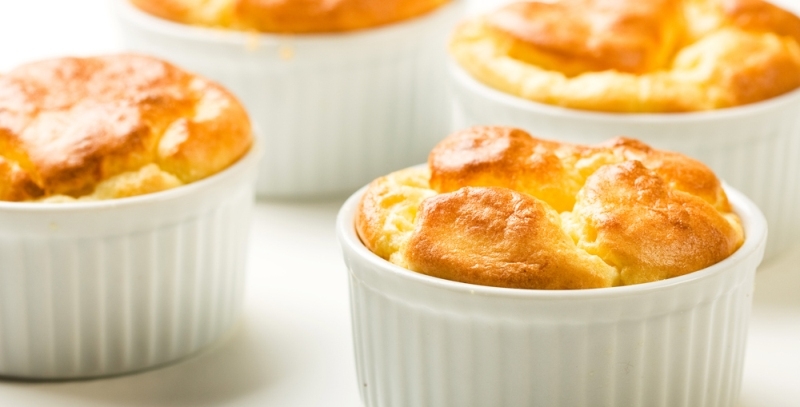 ---
Ingredient:
45 g (1 ½ oz) butter, plus extra for greasing
45 g (1 ½ oz) plain flour
250 ml (8 fl oz) hot milk
150 g (5 ½ oz) broccoli florets
Salt and black pepper
1 tbsp olive oil
1 large banana shallot, finely chopped
1 tsp dijon mustard
Pinch of grated nutmeg
75 g (3 oz) blue stilton cheese, grated
4 eggs, separated
8 small ramekins

Method:
Melt the butter in saucepan. Add the flour and cook, stirring, for 30 seconds. Pour in the hot milk and whisk until thickened and boiling. Remove from the heat and leave to cool for 10 minutes.

Cook the broccoli in boiling salted water for 2-3 minutes until just tender. Drain and rinse under cold water. Drain well, then chop coarsely.

Heat 1 tbsp of oil in a saucepan. Add the shallot and cook gently until soft.

Add the mustard, nutmeg, stilton cheese, seasoning, and egg yolks to mixture. Stir until well mixed, then fold in the broccoli.

Whisk the egg whites until stiff but not dry. Fold in 2 tbsp of the egg whites into the cheese mixture, then gently fold in the remaining egg whites. Prepare the ramekins then carefully spoon in the mixture and run our finger around the edge.

Place on a baking sheet and bake in a preheated oven at 220 ℃ (200℃ fan, Gas 7) for 15 minutes, Until the soufflés are well-risen and lightly golden brown, but still soft and moist in the middle.