Devon flat baps
Friday - December 7, 2018 11:12 am ,
Category : RECIPES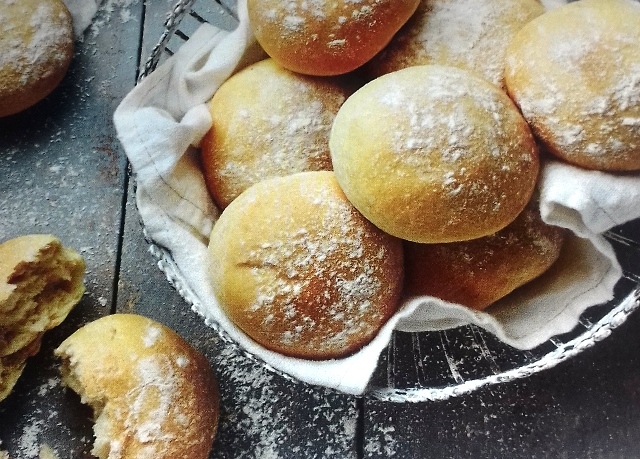 ---
Ingredient:
500 g (1 lb) strong white flour, plus extra for dusting
45 g (1 ½ oz) butter
1 tsp salt
1×7 g sachet fast-action dried yeast
About 150 ml (1/4 pint) very hot water
About 150 ml (1/4 pint) milk
1 tsp clear honey
Sunflower oil, for greasing

Method:
Put the flour into a large bowl. Add the butter and rub in with the fingertips until the mixture resembles fine breadcrumbs. Stir in the salt and yeast, and make a well in the middle. Mix the water, milk, and honey together and add to the flour until soft, quite sticky, dough is formed.

Knead the dough on a lightly floured surface until smooth and elastic. Shape into a round and place in a lightly oiled large bowl. Cover with oiled cling film and leave to rise in a warm place for 1-1 ½ hours or until doubled in size.

Turn out the dough on to a lightly floured surface and knock back with your fists. Knead for 2-3 minutes until the dough is smooth and elastic.

Lightly oil two baking trays. Divide the dough into 16 even-sized pieces. Knead and roll into rounds and place well apart on the baking trays. With the heel of your had, flatten each round so that it measures 7 cm (3 in) across.

Cover loosely with oiled cling film and leave to rise in a warm place for about 30 minutes or until the dough has doubled in size.

Lightly flour the baps and bake in a preheated oven at 200℃ (180℃ fan, Gas 6) for 15-20 minutes until golden. Leave to cool on a wire rack.