Traditional steak and kidney pie
Sunday - January 13, 2019 11:12 am ,
Category : RECIPES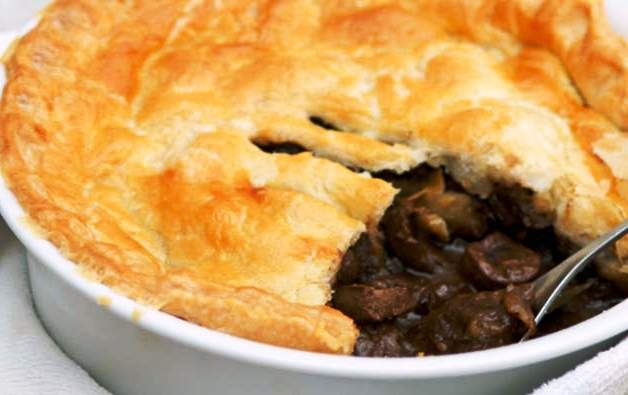 ---
Ingredient:
2 tbsp sunflower oil
1 large onion, chopped
750 g (1 ½ lb) stewing steak, cut into 2.5 cm (1 in) cubes
250 g (8 oz) beef or lambs kidney, trimmed and cut into 2.5 cm (1 in) cubes
30 g (1 oz) plain flour
300 ml (1/2 pint) beef stock
2 tbsp Worcestershire sauce
Salt and black pepper
250 g (8 oz) button mushrooms
Beaten egg, for glazing

Shortcrust pastry
250 g (8 oz) plain flour
125 g (4 oz) butter
About 3 tbsp cold water
Pie Funnel

Method:
Heat the oil in a large saucepan, add the onion, and cook, stirring form time to time, for a few minutes until soft but not coloured.

Add the beef and kidney and cook until browned. Add the flour and cook, attiring, for 1 minute. Add the stock and Worcestershire sauce, season with salt and pepper, and bring to a boil, stirring. Partially cover, and simmer gently for 2 hours.

Add the mushrooms and cook for 30 minutes or until the meat is tender. Taste for seasoning, then leave to cool completely.

Make the pastry: sift the flour into a bowl. Add the butter and rub in lightly with your fingertips until the mixture looks like fine breadcrumbs. Add the water and mix with a flat-bladed knife until the dough comes together to form a ball.

Roll out the pastry on floured work surface until 2.5 cm (1 in) larger than the pie dish. Invert the dish over the pastry and cut around the dish. Brush the rim of the dish with water and press on a strip of pastry cut from the trimmings.

Put a pie funnel into the middle of the dish then spoon in the meat mixture.

Lightly brush the pastry strip with water and top with the pastry lid, making a hole in the middle so the steam can escape through the pie funnel. Seal the pastry edges and crump with a fork, then decorate the top of the pie with pastry trimmings, attaching them with beaten egg.

Brush the pastry all over with the beaten egg, and bake in a preheated oven at 200℃ (180℃ fan, Gas 6) for 25-30 minutes until the pastry is crisp and golden. Serve hot.

Steak and Kidney Pudding
Mix 300 g (10 oz) self-raising flour, 150 g (5 oz) shredded suet, salt and pepper, and 200 ml (7 fl oz) water. Use ¾ pastry to line a 1.7 litre (3 pint) bowl. Add the uncooked filling, top with pastry, and steam for 5 hours.