Chicken korma with apple, mint and cumin
Sunday - April 1, 2018 11:06 am ,
Category : RECIPES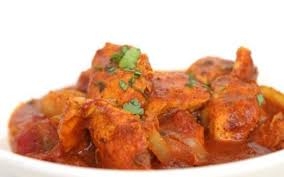 ---
Ingredient:

25 g bunchfresh mint, leaves removed
2 eating apples, peeled, cored and cut into quarters
2 tablespoons fresh root ginger, grated
2 green chillies, chopped
3/4 teaspoon salt, or to taste
400ml light coconut milk
1 teaspoon cumin seeds
10 green cardamom pods, lightly crushed
4 garlic cloves, finely chopped
1 tablespoon olive oil
1 teaspoon turmeric
500g skinless, boneless chicken breasts, cut into bite-size pieces
fresh coriander, chopped, to garnish
extra mint leaves, to garnish

Method:

In a food processor, blend together the mint leaves, apple quarters, ginger, chillies and salt with the coconut milk. Set aside.
Place the cumin seeds, cardamom pods and garlic into a deep saucepan with the olive oil and cook over a low-medium heat until the garlic starts to brown – this should take no longer than 1–2 minutes. Add the turmeric, mix well and cook for about 20 seconds.
Add the chicken and cook until sealed all over, stirring frequently – this should take no more than 5 minutes.
Now slowly pour in the coconut milk mixture, mixing with the chicken, then bring to a simmer. Simmer, uncovered, for 10 minutes, stirring from time to time.
Garnish with the chopped coriander and extra mint leaves and serve with your choice of sides.
RELATED NEWS
March 19th, 2019
March 19th, 2019
February 24th, 2019