Battenberg cake
Friday - February 22, 2019 11:18 am ,
Category : RECIPES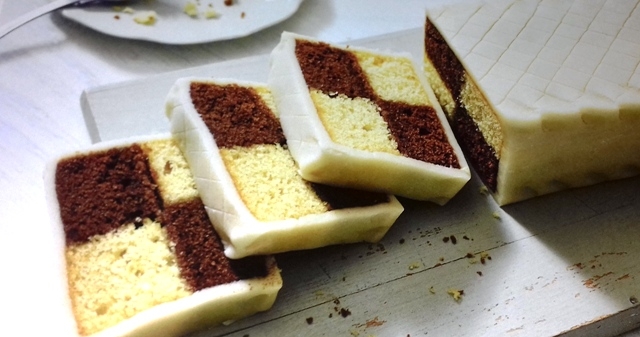 ---
Ingredient:
125 g (4 oz) soft butter or baking spread, plus extra for greasing
125 g (4 oz) caster sugar
2 large eggs
60 g (2 oz) ground rice
125 g (4 oz) self-raising flour
½ tsp baking powder
A few drops of vanilla extract
1 ½ tsp cocoa powder
3 tbsp apricot jam
250 g (8 oz) almond paste
Shallow 18 cm (7 in) Square cake Tin

Method:
Lightly grease the cake tin with butter. Fold an 18 cm×30cm (7 in×12 in ) high. Place inside the tin to form tow equal sections.

Beat the butter, sugar, eggs, ground rice, flour, baking powder, and vanilla extract in a large bowl for 2 minutes or until the mixture is smooth and evenly combined.

Spoon half of the mixture into one half of the prepared tin. Dissolve the cocoa in a little hot water to make a thick paste and add to remaining cake mixture in the bowl. Mix well, then spoon into the other half of the tin.

Bake the mixture in a preheated oven at 160℃ (140℃ fan, Gas 3) for 35 minutes or until the cake is well risen and springy to the touch. Turn out on to a wire rack, peel off the lining paper, and cool.

Trim the edges of the cake. Cut it into four equal strips down the length of the two colours.

Warm the apricot jam in a small saucepan. Stack the cake strips, alternating the colours to give a chequerboard effect and sticking them together with the apricot jam.

Roll out the almond paste into an oblong that is the same length as the cake wide enough to wrap around it. Put the cake on top, the brush with jam. Wrap the paste around the cake.

Score the top with a crisscross pattern and crimp the edges with your fingertips to make a decorative effect.
RELATED NEWS
August 5th, 2019
August 5th, 2019
August 3rd, 2019