Baked vegetables with marinated tofu and chickpeas
Monday - April 2, 2018 11:12 am ,
Category : RECIPES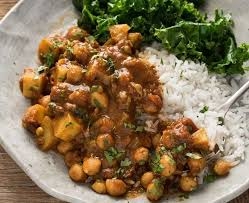 ---
Ingredient:

1 aubergine, pricked with a fork
500g vine-ripened tomatoes
1 whole bulb garlic
2 tablespoons olive oil
2 teaspoons cumin seeds
1 teaspoon nigella seeds
3/4 teaspoon salt, or to taste
1 small onion, sliced
2 tablespoons fresh root ginger, grated
4 garlic cloves, chopped
1 teaspoon turmeric
1 teaspoon garam masala
2-4 green chillies, chopped
150g marinated tofu pieces
400g canned chickpeas, rinsed and drained
plenty fresh coriander, chopped, to season

Method:

Preheat the oven to 200°C/fan 180°C. Place the whole aubergine and tomatoes on a baking tray and bake in the centre of the oven for 45 minutes or until they are soft; add the whole bulb of garlic halfway through cooking.
Remove the vegetables from the oven and allow them to cool a little. Peel the roasted cloves of garlic and place in a bowl. Remove the stalk from the aubergine. Roughly chop the aubergine and tomatoes and place in the bowl with the roasted garlic cloves. Set aside.
Pour the olive oil into a deep saucepan, add the cumin and nigella seeds and cook over a low-medium heat until the seeds start to pop – this should take no longer than 2–3 minutes. Add the salt and onion and fry until the onion is a light brown colour – this should take no longer than 5 minutes. Remember to stir frequently.
Add the ginger and chopped garlic and cook until the garlic is a light brown colour – this should take about 2–3 minutes. Sprinkle in the turmeric and garam masala, mix well and cook for 20 seconds.
Now add the roasted garlic, aubergine, tomatoes, chillies, tofu and chickpeas, mixing well. Bring to a simmer, then cook over a gentle heat, uncovered, for 10 minutes, stirring frequently.
Season with the chopped coriander. Serve with your choice of sides.
RELATED NEWS
March 19th, 2019
March 19th, 2019
February 24th, 2019