Modern research on the genetics of tumor cells will bring better results in future
Saturday - April 6, 2019 11:43 pm ,
Category : BHOPAL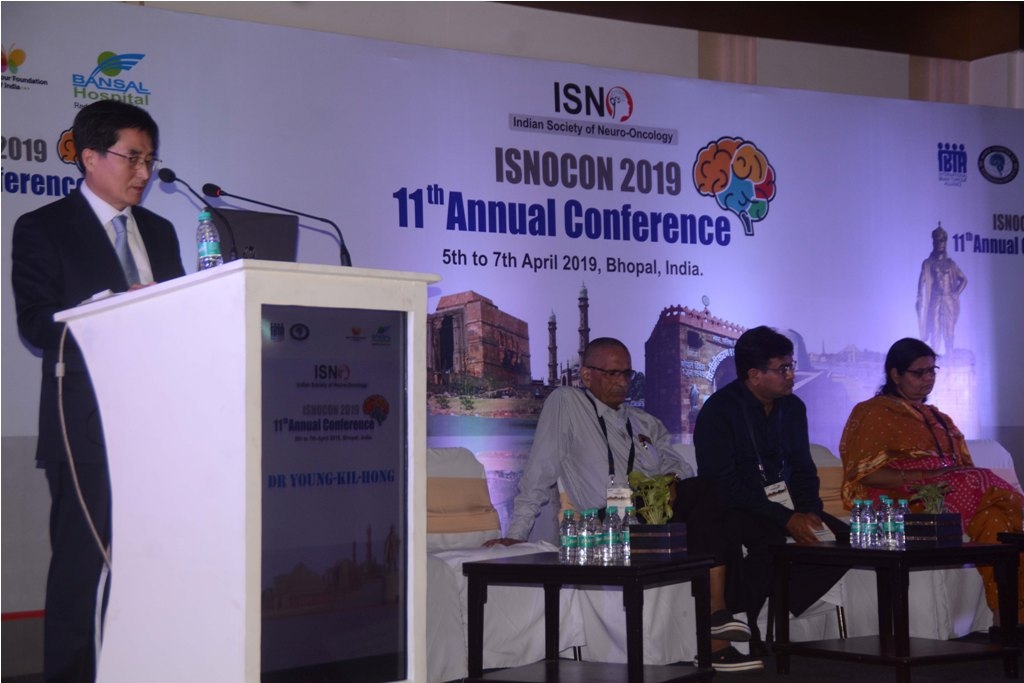 ---
Bhopal April 6 2019 (WTN): On the 3rd day of ongoing Neuro-Oncology Conference – ISNOCON 2019 - experts discussed newly introduced techniques for the treatment of multidisciplinary Brain Tumors. Lectures and discussions were held on topics like Germ Cell Tumors (GCT) and Non-Germinomatous Germ Cell Tumor (NSGCT). They also discussed treatment and clinical and surgical staging procedures.

Some of the other topics covered were treatment and precautions for non-germinomatous germ cell tumours and Contemporary Management of Intracranial GCTs towards ISNO Consensus Guidelines. Dr. Sona Pungavkar from Mumbai Dr. Chitra Sarkar from Delhi presented her study about Imaging of Intracranial GCTs and process to differentiate Germinomas from NGGCTs through Imaging.

An interesting and emerging treatment option -Genetically modified virus-based therapy- was also presented and discussed in today's Prof Yong-Kil Hong, Neurosurgeon and Scientist from South Korea explained that how a modified polio-vaccine could directly kill the tumor cells and also set up a secondary immune response which kills additional tumors cells in the periphery. He further stated that the process is in the clinical trial stage and results are very positive.




Speaking to Window To News on genetic research Dr. Ching C Lau from Jackson Laboratory for Genomic Medicine, USA told about research work on Genetic profiling and its clinical implications. He said that by differentiating cancer affected cells and normal cells we can better target out treatment only on affected cells. As now various therapies of treatment like chemo and radiation normal body cells are also affected with the tumor cells. He further added that cancer cells affect nearby organs by uncontrolled growth so early detection techniques related with genetics will be helpful in future.



Another method discussed was Laser Interstitial Thermal Therapy. In this method, laser energy is delivered directly into the tumor by fine probes/needles to kill the tumour cells.

Dr. Nitin Garg, Neurosurgeon at Bansal Hospital and organizing committee secretary said that now experts, working in the field of brain tumor treatment and research, are focusing on targeted therapies. The tumours are analyzed to the molecular level and depending upon the tumor biology, treatment options are discussed and offered to the patients. During the conference, scientists are trying to better understand the tumor biology so that weak points of that tumour can be attacked with the least damage to the normal brain tissues. – Window To News
RELATED NEWS
September 27th, 2019
September 27th, 2019
September 27th, 2019