Chinese grooms proved the annoyance to the Pakistani brides!
---
China Pakistan Economic Corridor looks like the trouble for Pakistanis!

May 06 (WTN) - You know very well about the financially poor Pakistan's relations with China. Taking advantage of Pakistan's miserable financial condition, China has suppressed Pakistan under debt burden. At the same time, China is constantly using resources for their ambitious CPEC project in Pakistan. China is a great hope for Pakistan, which is in a poorly regulated condition, because China is the only one who can help Pakistan to get out of the financial crisis. For this reason, Pakistan is engaged in trying to please China in some way or another.

In this exercise to improve relations with China, many cases of marriage between Pakistani girls and Chinese boys are in news nowadays. Initially, it was seen as an intensified relationship between China and Pakistan. But gradually the reality appeared; the Chinese groom has been started appearing like a panic for Pakistani girls.

Due to this, the Pakistani Government has now issued a warning to the public about the Chinese grooms. According to the information received from the media, Chinese men marry Pakistani girls by putting them in dark and then they carry them in the prostitution. It is being said that in the last few years, many cases of girls pushing forcibly in the prostitution by Chinese men in Pakistan have come to light. Not only that, the Chinese Embassy in Pakistan has issued a statement about it.

Chinese Embassy in this regard says that Pakistani girls should have a lot of thinking of marrying to Chinese men only after thinking. The Embassy has issued the Advisory and said that avoid the marriage from the non-legal matchmaking centers, because these centers are running for personal benefit and it can jeopardize the lives of Pakistani girls.

In recent times, the Pakistani Government has also acted on some such fake matchmaking centers. It was revealed in this match that through these matchmaking centers, Pakistan's poor Christian girls are targeted. It has been observed that Chinese boys, working in Pakistan, marry these poor girls. To get married, the Chinese boys make a fictitious document for marriage, and marry themselves by saying them as Christians or Muslims.

After the marriage, Chinese grooms offer money to those girls and their families and take them to China and trap them in the prostitution and human trafficking. The condition is that many girls are transported from China to other countries for the prostitution.

In fact, such cases are happening in the China-Pakistan Economic Corridor. To say that the CPEB is designed to increase trade, but this corridor is becoming a cause of trouble for the people living in Pakistan. Since the year 2015, many Chinese citizens have been living in Pakistan since the construction of this corridor. In a planned way, some of them have also bought home and property here. It has been observed that under the guise of trade, some people are also promoting prostitution and human trafficking.

Now it has to be seen how much control there will be in the Chinese men's conspiracy. However, Pakistan is not in a position to say anything to Chinese citizens. Trapped in the debt of China, Pakistan is bounded to say right to all the rights and the wrongs of China at this time. China is heavily exploiting Pakistan's resources through CPEC and its citizens are exploiting Pakistani people.

RELATED NEWS
October 21st, 2019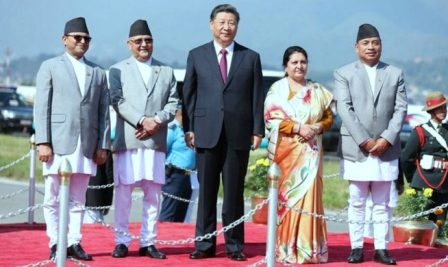 October 21st, 2019
October 21st, 2019