Iran and America at the face of war!
Thursday - May 9, 2019 2:15 pm ,
Category : WTN SPECIAL
---
After the tightening of economic sanctions Iran frowns', gives speed to the nuclear program

May 09 (WTN) - The 'dispute' and 'tension' between the US and Iran is nothing new. From time to time, tension between these two countries increases so much that it seems that there may be war between these two countries. More or less the same situation has created these days between the US and Iran.

Because of the recent developments between the US and Iran, the conflict between these two countries has once again reached 'extreme'. In the midst of the 'stringent' restrictions of US sanctions on Iran, let you know that Iran has once again started to 'speed up' its nuclear program. The directive of this step of Iran is to give a straight 'challenge' to the United States.

After making 'economic pressure' on Iran, the US has now even started putting 'military pressure' on it, because the US has given 'signs' that it has intelligence report that Iran and its allies can try to make 'target' of US naval bases. Due to this, the US has deployed aircraft carrier and bomber task force in Middle East Asia, after which it is said that the conflict between these two countries is at peak.

In fact, under the nuclear deal between Iran and US-European countries in 2015, stringent sanctions were imposed on Iran's nuclear program, but instead it was given 'relief' on the restrictions imposed on it. However, on May 8, 2018, US President Donald Trump canceled the nuclear deal.

Even after the announcement of US President Donald Trump, Iran continued to follow the agreement. But troubled by US sanctions, Iran wants to start its nuclear program once again, and due to this step of Iran, a 'dangerous' situation may arise between the US and Iran.

For the past long time, the US has been monitoring the 'activities' of Iran. Last month, the Trump administration declared Iran's powerful security and military organization "Islamic Revolution Guards Corps" as a foreign terrorist organization. For your information, let you know that this was the first time that the US had declared any official organization a terrorist.

After the tightening of economic sanctions and after some other restrictions, it is being said that Iran is preparing to respond to America in its own way. It is being said that Iran is preparing for 'Proxy War' against America. For all these reasons, it seems that Iran and the United States have reached at the face of war. If Iran tries to harm US military force directly or indirectly, then America will not be 'calm'.

According to the information from the media, Iranian President Hassan Rohani can make many more announcements about his country's nuclear program, including all the works like making nuclear fuel and covering its nuclear program from surveying. On the basis of all this, it is being said that Iran has reached 'very close' to make nuclear bombs, but it is still 'skeptical' when it will announce it.

The experts of US-Iran relations believe that nuclear bomb making program of Iran had been blocked for almost a decade due to nuclear deal. Here, the sign of the 'partial' exit of Iran from nuclear deal has also come after warning of the US, in which the US has warned to countries importing crude oil from Iran. The US has warned these countries and said that they stop importing oil from Iran; otherwise America can take action against them too. This move of America is a big blow to Iran because oil export is the biggest source of earnings to Iran.

Amid all the US sanctions and pressures, Iran had no longer had any advantage of staying in this agreement (nuclear deal) only then after Iran indicated a partial exit from it. It is being said that in response to the withdrawal of US nuclear deal and not fulfilling the promises of European countries, Iran will start 'few parts' of its nuclear activities, which were stopped under the ambit of the nuclear deal.

That is to say that the tension between Iran and America is at the peak, which can cause war between these two countries. If this happens then its huge 'loss' may have to be raised to other countries like India which import crude oil, because in the war time, there will be a 'negative' impact on supply of crude oil. Now let's see if the ongoing dispute between Iran and the US is going to be settled, or does it end after going to war?
RELATED NEWS
October 21st, 2019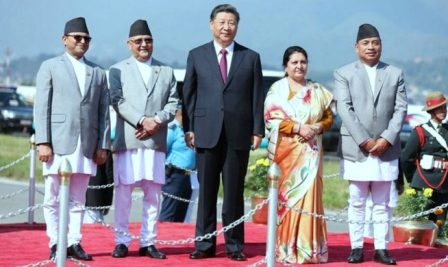 October 21st, 2019
October 21st, 2019