'Distress' builds up between Pakistan and Bangladesh
Thursday - May 23, 2019 2:31 pm ,
Category : WORLD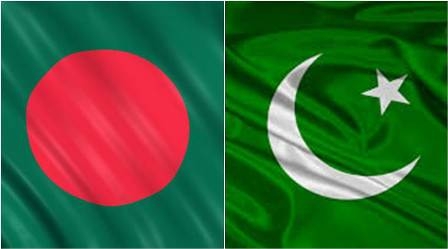 ---
'Visa diplomacy' mulls the relations of Pakistan and Bangladesh

MAY 23 (WTN) - The economic condition of India's neighboring country Pakistan is getting worse. It is a matter of the fact that inflation has gone up to a record level in Pakistan, and the poor people of Pakistan are facing problems. Pakistan's economic condition has deteriorated so much that it has to take a bailout package on the stringent terms of the IMF to get the economy back on track. But even after being so bad economic condition, Pakistan is not backing from promoting terrorism.

As you know, Pakistan continues its efforts to promote terrorist activities in India. But now Pakistan is doing similar acts in Bangladesh, since then there has been tension in the relations between these two countries.

Meanwhile, the diplomatic row between Pakistan and Bangladesh has increased now. The Bangladesh High Commission, in Islamabad, has stopped issuing visas to Pakistani nationals a week. That's why, because Bangladesh has taken this step in a protest against the fact that the Pakistan High Commissioner to Dhaka is not issuing the visa to the family members of a Bangladeshi diplomat posted in Pakistan.

Although, nothing is new in the tension between Pakistan and Bangladesh, since the Bangladesh has come into existence, the relations between these two countries have never been normal. In the year 2013, when Bangladesh had decided to execute war criminals in the liberation war of 1971, the relationship between these two countries had become strained. In Bangladesh, many proposals were passed in the Parliament of Pakistan against the order to hang Pakistani soldiers in Bangladesh.

At the same time, Bangladesh continues to accuse Pakistan of providing financial assistance to terrorism in Bangladesh. In the midst of such allegations, the relations between these two countries became even worse when Bangladesh did not approve the new High Commissioner of Pakistan in 2018, while Bangladesh has now stopped giving visas to the Pakistanis.

For your information, let you know that Bangladeshi diplomats, in charge of issuing visas, are avoiding the progress of visas to Pakistanis, because Pakistani officials have kept the application for further extension of their official visa for the last four months. Actually, Dhaka had refused to accept the nomination of Saklan Saidah as Pakistan's new High Commissioner to Bangladesh, after which Bangladesh High Commission's visa counter in Islamabad was closed from May 13 due to the growing tension between these two countries.

Here Bangladesh Foreign Minister AK Abdul Momin says that Bangladesh has not stopped issuing visas to Pakistani nationals. Dhaka's argument is that Bangladesh's high commission, in Islamabad, is facing a shortage of employees, and this is why the process of issuing visas is delayed. This is happening, because Pakistan is delaying issuance of visas to the newly appointed Visa Counselor of Bangladesh in Islamabad.

RELATED NEWS
September 18th, 2019
September 18th, 2019