Roasted Beet & Carrot Soup
Monday - April 9, 2018 11:12 am ,
Category : RECIPES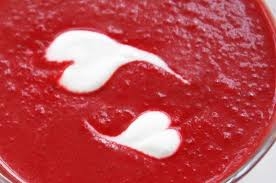 ---
Ingredient:

canola or olive oil
2 onions, chopped
3-4 garlic cloves, crushed
2 celery stalks, chopped
2-3 carrots, peeled and chopped
1 L beef or chicken stock
3-4 beets, roasted and peeled
1-2 Tbsp red wine or balsamic vinegar
Salt and pepper to taste

Method:
In a large pot, heat a drizzle of oil over medium-high heat. Sauté the onions for about 5 minutes, until soft. Add the garlic, celery and carrots and cook for about 10 minutes, until everything is soft and starting to turn golden.

Add the stock and 2-4 cups of water. Grate the beets using the coarse side of a box grater and add that too. Bring to a simmer and cook for about 20 minutes, until all the vegetables are tender and the broth has thickened slightly. Add the vinegar and salt and pepper to taste and if you like, puree with a hand-held immersion blender right in the pot, or transfer in batches to a blender to whiz until smooth.

Serve hot, garnished with sour cream. To make hearts, drop spoonfuls on the surface and pull the tip of a bamboo skewer through to make a heart (or hearts).
RELATED NEWS
March 19th, 2019
March 19th, 2019
February 24th, 2019