No compromise is possible with greenery and water source - Prof. Ramchandra
Thursday - June 6, 2019 10:45 am ,
Category : BHOPAL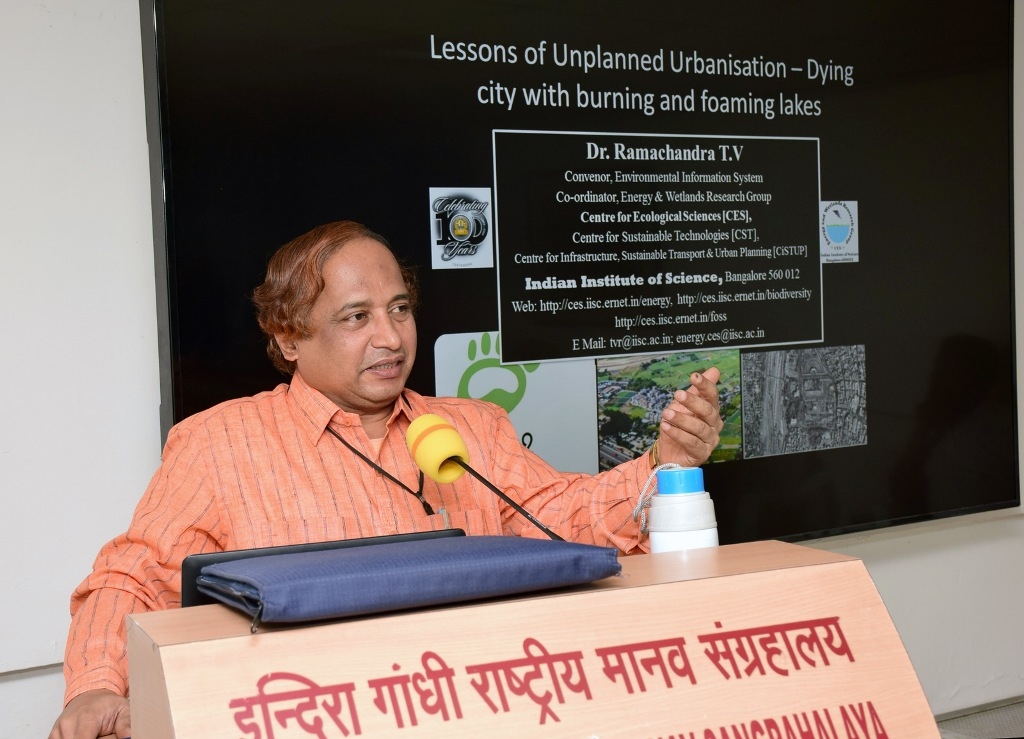 ---
Bhopal, June 5 (WTN): On the occasion of World Environment Day, Indira Gandhi Rashtriya Manav Sangrahalaya organized lecture under their series of popular lecture by Prof. T.V. Ramachandra from Centre for Ecological Sciences, IISC Bangalore who delivered his views on the topic "Environment & Air Pollution" with the help of slideshow presentation. Prof Ramchandra said that by copying the architecture of the western countries, making buildings from glass in India, which is not possible with Indian climate, this is the reason that air pollution is the highest and electricity costs increase. Explaining the problems arises due to the air pollution in 1984 at Bhopal, so many people affected by various diseases.

He elaborated that the process of urbanisation gained impetus with industrial revolution 200 years ago and accelerated in 1990's with globalization and consequent relaxations in market economy. Bangalore, the pride to India as the garden and cool city, is about 500 years old has grown from a small time settlement when Kempe-Gowda, the architect of Bengaluru, built a mud fort in 1537 and his son marked the city boundaries by erecting four watch towers.

Bangalore is experiencing unprecedented urbanisation and sprawl in recent times due to concentrated developmental activities with impetus on industrialisation for the economic development of the region. This concentrated growth has resulted in the increase in population and consequent pressure on infrastructure, natural resources and ultimately giving rise to a plethora of serious challenges such as climate change, enhanced green-house gases emissions, lack of appropriate infrastructure, traffic congestion, and lack of basic amenities (electricity, water, and sanitation) in many localities, etc. During past few decades, the quantum and composition of urban solid waste generation has changed due to the rise in the senseless behavior (dependence on plastics), economic level, and changes in the demographic structure, consumer attitude and lifestyle of the residents. These ad-hoc approaches have led to the transport of pollutants through leaching to groundwater resources. Higher values of nitrates and heavy metal with instances of kidney failures highlight the gravity of the situation and deteriorating human health.

He further said that, Unplanned rapid urbanisation during late nineties, witnessed large-scale unrealistic, uncontrolled developmental activities in the neighbourhood of wetlands. Land use analysis using temporal remote sensing data of Bangalore City reveals of unrealistic and irresponsible urbanisation with 1028% increase in urban (built-up) area between 1973 and 2017 (i.e., from 8.0% (in 1973) to 78% (in 2017) with a decline of 88% tree cover and 79% water bodies. Land use prediction using Agent Based Model showed that built up area would increase to 93.3% by 2020 and 98.5% by 2025, and the landscape is almost at the verge of saturation. Current erroneous design for optimisation of land for construction (or concretisation, paved surfaces) has resulted in GHG rich, water scarce, non-resilient and unlivable, while depriving the city dwellers of clean air, water and environment.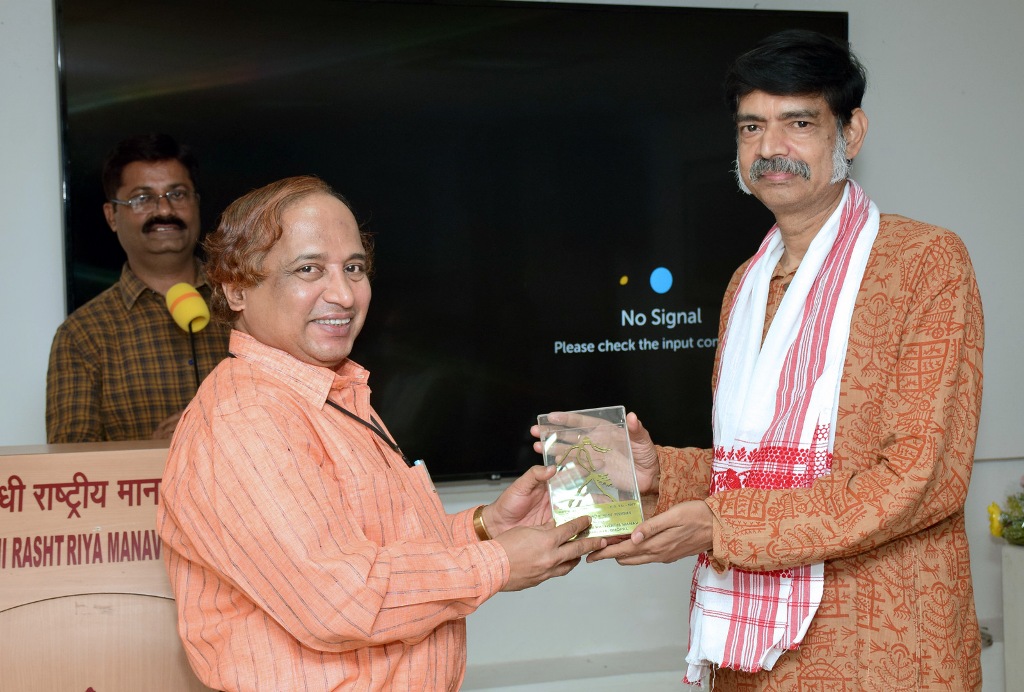 At the beginning of programme Prof. Sarit Kumar Chaudhuri, Director, IGRMS apprised Prof. T.V. Ramachandra and told that Dr. T.V. Ramachandra obtained Ph.D. in Ecology and Energy from Indian Institute of Science. At present he is working as Coordinator of Energy and Wetlands Research Group (EWRG), Convener of Environmental Information System (ENVIS) at Centre for Ecological Sciences (CES). During the past twenty years he has established an active school of research in the area of energy and environment. He is a member of Karnataka State Wetland Authority (2018), Karnataka State Audit Advisory Committee and member of Karnataka State Pollution Control Board Technical committee (Biodiversity). He was a Member of Karnataka State level Environment Expert Appraisal Committee (2007-2010), appointed by the Ministry of Environment and Forests, Government of India and a member of Western Ghats task force appointed by the Government of Karnataka. Apart from this TVR is serving in many committees of NGT (National Green Tribunal) related to wetlands of Bangalore, Chennai. The programme was chaired by Dr. AK Bhattacharya, IFS Former Director, MP Bamboo Mission.

At the end of the programme, Mr. Dilip Singh, Joint Director gave vote of thanks.- Window To News
RELATED NEWS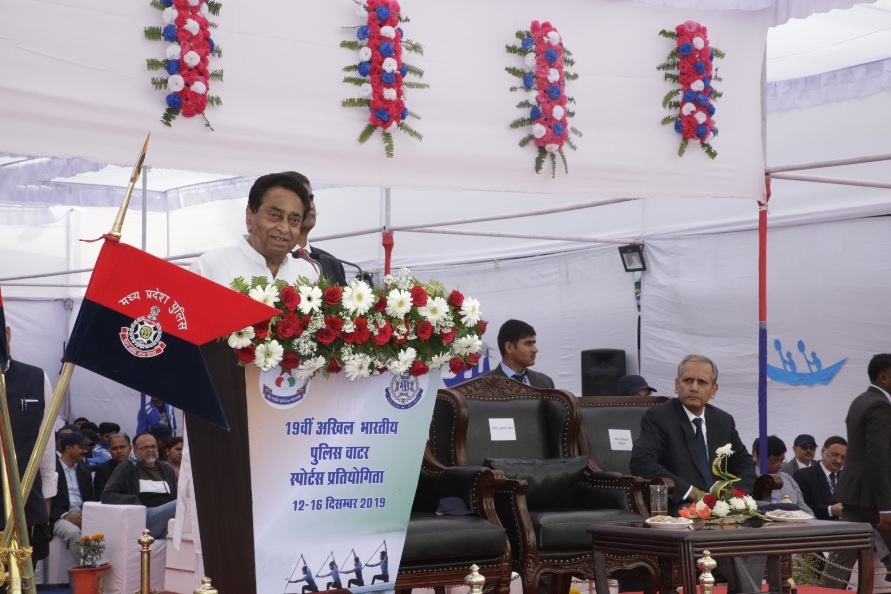 December 13th, 2019
December 10th, 2019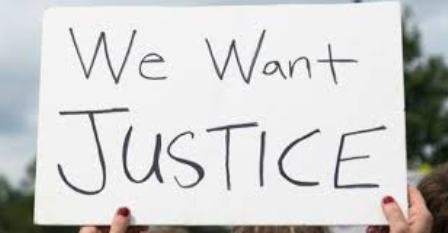 December 7th, 2019