Pakistan in dread!
Monday - June 10, 2019 12:01 pm ,
Category : WTN SPECIAL
---
Pakistan proving to be 'unsuccessful' in taking appropriate action on terror organizations

JUNE 10 (WTN) - Problems for the India's neighboring country Pakistan's are not new, and Pakistan itself is responsible for these problems. After failing to take action on terrorist organizations like Jaish-e-Mohammad and Lashkar-e-Taiba, Pakistan can be blacklisted by the Financial Action Task Force (FATF). For your information, let you know that the FATF has already listed Pakistan in the gray list for not taking proper action on terrorist organizations.

After listing Pakistan in the gray list, Pakistan was given enough time to take action against Jaish and the LeT. Asia-Pacific Group has reported 27 action plans for Pakistan to take action against Jaish and Lashkar. After which, Pakistan has been told that on 27 of action plans which were asked to work, Pakistan's action on 18 is not satisfactory.

For your information, let you know that the Asia-Pacific Group is an organization to prevent financial transactions for the purchase of genocide weapons, money laundering, terror financing, and the FATF takes action based on the report of this organization. Let you know that FATF is an international organization, which watches the financial help given to terrorist organizations worldwide.

According to the information, the Asia-Pacific Group has demanded from Pakistan that it should take action against ISIS, Al Qaeda, Jamaat-ud-Dawa, Falah-e-Insaniat Foundation, Lashkar-e-Taiba, Jaish-e-Mohammad, Haqqani Network and the Taliban, and take strong action against the people involved with these organizations. Not only that, Pakistan has been told that its investigating agencies should take some tough steps to prevent money laundering and terror financing and its effect should be clearly seen.

Pakistan, which arrived on the verge of waste, has been given a deadline of up to September to take any concrete action against terrorist organizations, because after this the FATF will meet to take the final decision on the issue of Pakistan. Here, the next meeting of the FATF will be held in Orlando between June 16 and 21. In this meeting, a proposal to blacklist Pakistan can be tabled.

For your information, let you know that Pakistan already has been put in the gray list of FATF. To let Pakistan get out of the Gray List, it is necessary to get votes of 15 out of 36 FATF members. At the same time, Pakistan needs at least 3 members' votes to avoid being blacklisted in FATF. Let you know that the action in which list Pakistan will be put to be decoded in the meeting in the Orland, but its formal announcement will be made in the FATF meeting in Paris in October.

Due to no action taken on terror organizations, Pakistan was put in the Gray List of FATF in June 2018. If FATF will black list Pakistan, then there will be deep economic impact on Pakistan. After being listed in FATF's blacklist, Pakistan can also be stopped the $ 6 billion loan from the IMF, because if Pakistan wants loan from IMF then it is very important to get clearance from FATF. Indeed, the IMF had already made it clear that Pakistan would have to take actual steps against money laundering and terror financing.

But after failing to take action against terrorists and terrorists organizations, Pakistan has started blaming India for its failure. Pakistan's Foreign Minister Shah Mahmood Qureshi has said that India wants to blacklist the Pakistan in the FATF. Indeed, Pakistan has been shocked after India getting the support in the OIC. Due to India's growing relations with Islamic countries, Pakistan is afraid that if the Modi Government succeeds in Pakistan putting in the FATF black list, then no one can stop Pakistan's economy from being ruined.
RELATED NEWS
November 18th, 2019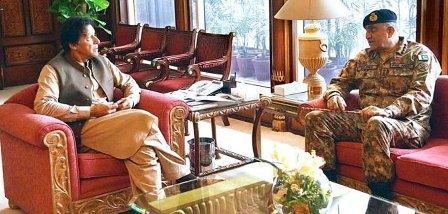 November 18th, 2019
November 18th, 2019