Modi Government's 'economic strike' sets big loss to Pakistan's economy!
Tuesday - June 11, 2019 3:00 pm ,
Category : WTN SPECIAL
---
Prime Minister Modi gives a 'big jerk' to Pakistan by paying a little 'price'

JUNE 11 (WTN) - Pakistan has not yet recovered from the diplomatic actions of the Modi Government after the Pulwama terror attack. The manner in which Prime Minister Modi had trapped Pakistan by strategic, diplomatic and financially, Pakistan is suffering a great setback. The economy of Pakistan, which has reached at a worse financial position, has also suffered a lot from the Modi Government's 'economic strike'. Now only the International Monetary Fund can support to Pakistan's economic condition, since China and other friends countries of Pakistan had denied to support Pakistan indirectly.

In fact after Pulwama terror attack, India increased the customs duty 200 per cent in trade with Pakistan. This 'economic strike' of Modi Government has had such negative impact on Pakistan that the commercial import from Pakistan in India has declined by 92 per cent in March this year, and it declined to 28.4 lakhs dollars. Clearly, due to imposition of 200 per cent customs duty imposed by India after the Pulwama terror attack, Pakistan's imports to India have declined and its losses have to be raised by Pakistan's economy.

As you know, the entire country was angry after the Pulwama terror attack. The people of the country wanted that the Modi Government should punish Pakistan to its activities. Understanding the public sentiments of the country, the Modi Government had claimed to have killed several terrorists of Jaish-e-Mohammed by air strikes in Balakot, situated Pakistan Occupied Kashmir.

Prime Minister Modi believed that the air strikes would destruct the terrorists, but it is necessary to teach a lesson to Pakistan for its terror-supported activities. Because of this, the Modi Government withdrew the status of the Most Favored Nation (MFN) given to Pakistan.

Prime Minister Modi knows that weakening Pakistan by financially is most beneficial for India, because due to this, Pakistan will have to face many problems. Naturally, due to the increase in poverty, the separatist movements in Pakistan will be more activated and internal disturbance will spread in Pakistan. Following the Pulwama terror attack on February 14, Prime Minister Modi took a tough economic action against Pakistan on February 16. In this action, India increased the customs duty on all items imported from Pakistan to 200 per cent. These items include cotton, fresh fruit, cement, petroleum production and minerals etc.

For your information, let you know that import from Pakistan was 3.46 crore dollars in March 2018. But in March this year, total imports from Pakistan amounted to 28.4 lakhs dollars, in which 11.9 lakhs dollars pricing cotton was imported. However, during this period, India's exports to Pakistan have increased. During the entire financial year 2018-19, India's exports to Pakistan increased 7.4 per cent to 200 crore dollars. That is, the Modi Government's economic diplomacy increased the import of India to Pakistan, but the imports from Pakistan to India have almost come to the forefront of closure.

However, to teach a lesson to Pakistan, the Modi government has done the economic strike, due to this the export from Pakistan to India has come to at historically lowest label, and due to which the shortage of goods imported from Pakistan has increased in India. The products which India imports from Pakistan are now costlier for Indians, because India has increased customs duty up to 200 per cent on imported goods from Pakistan. But there is not much loss of Indian economy due to all this.

Pakistan has suffered a lot due to the manner in which India siege Pakistan after the Pulwama terror attack. At the same time, Pakistan's counter-economic action has not caused much damage to India. As India's economy is significantly larger than Pakistan, the loss of India compared to Pakistan is very less. Indeed, Pakistan has closed its own airspace for commercial flights between Delhi-Kabul, after which India's exports from Afghanistan have dropped by 30 per cent.

For your information, please tell us that the Chinese and Iranian airspace are being used by India and Afghanistan for the commercial flights of Kabul and Delhi. As this airway is longer and the time seems to be more than that, exporting from Afghanistan to this route makes India costlier. That's why Afghanistan's exports to India have dropped by 30 per cent. Well, the way due to the Modi Government's diplomacy the economic condition of Pakistan is getting worse; Pakistan will get a lesson from one day that it is very costlier to encourage terrorism and terrorists as well as keeping enmity with India.
RELATED NEWS
November 18th, 2019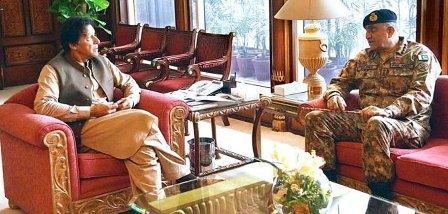 November 18th, 2019
November 18th, 2019