FSSAI soon taking hard steps on junk food advertisements
Sunday - June 16, 2019 11:32 am ,
Category : HEALTH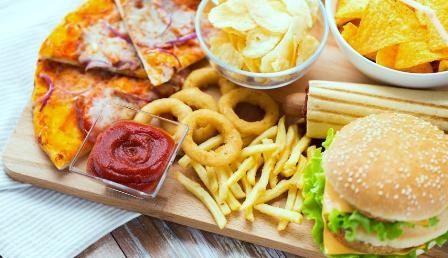 ---
Children's getting 'sick' consuming junk food and soft drinks

JUNE 16 (WTN) - On the advertisements of junk food may be restricted soon on some places. In fact, due to excessive use of junk food and soft drink, children have been suffering from obesity and many other diseases, in view of all these, the FSSAI (Food Safety and Standards Authority of India) has a proposal of banning junk food advertisements around the schools.

According to the doctors, fast food culture is growing rapidly in the middle class families in India, due to which the risk of obesity, diabetes and heart related diseases is increasing in small children. Health experts say that if Indian families have had similar habit of eating and drinking, then by 2030, one of three Indians will be victim of obesity.

Looking at the growing diseases in children due to junk food and soft drinks, nutritionists say that there is a great need to provide supplementary nutrition to the children. Considering the supplementary nutrition of the children, the National Food Security Act 2013 was passed. According to this act, it is compulsory to take care of children's diet. According to doctors, six out of ten diseases are related to the diet.

Due to the increasingly newly rich class in India, noodles including pizza, burgers, chips, sweetened carbonated and non-carbonated drinks are being consumed in children's food. From home to school, kids are eating junk food and drinking soft drinks. Keeping in view the health of children, Indian Food Safety and Standards Authority (IFFSAI) is preparing to ban advertisements and publicity of non-health food items within a radius of 50 meters of the schools.

For your information, let you know that doctors advice to keep children healthy through safe and healthy food. If the diet is right then the fear of getting sick decreases. Due to this, FSSAI has made significant efforts to promote safe, nutritious and complete food for the children in schools so that the diseases due to food and drinking in children can be stopped.

For your information, let us you that in March 2015, the Delhi High Court had asked the Food Safety and Standards Authority of India (FSSAI) to make rules for encouraging nutritious food for school children. In view of this, preparations are being made to restrict the advertisement and publicity of non-health food items within the radius of 50 meters of the schools, so that at least in the school hours, children can stay away from junk food and soft drinks.

Actually, it is not necessary that all the food items, selling for Indian children from multinational companies, are bad for all health, some Indian food can also be unhealthy for the children. The regulator is trying to convince the Indian parents about which food items are suitable for their children and what is inappropriate. When parents are aware about this, they will be able to understand their children as well as what they should not eat and drink.
RELATED NEWS
November 20th, 2019
November 20th, 2019