​Special Child Successfully Operated upon for Hernia & Gallstones
Saturday - June 15, 2019 4:19 pm ,
Category : BHOPAL
---
Big achievement of Super Specialty Care of People's Hospital

JUNE 15 (WTN) - Super Specialty Care of People's Hospital Bhanpur Bhopal is known for its compassion towards the society and its rapid discharge of duties. As always, the team of Doctors at Super Specialty Care has set yet another unique example. They successfully operated upon a Special Child Mayuri for hernia and gall stones.

Rajendra Pathak, father of special child Mayuri told that Mayuri is a Down syndrome patient since childhood and needs special care. Mayuri was suffering from stomach pain since May 2017. After much consultations in vain at a private hospital in Narsinghpur they were referred to seek advice from a senior specialist in Bhopal for further treatment. After going from one hospital to the other in Bhopal and not seeking satisfaction eventually, Mayuri was brought to Super Specialty Care of People's Hospital and admitted with appropriate consultation. Post investigations opinion of the experts confirmed that Mayuri has gallstones and hernia (Cholelithiasis with Large Epigastric Hernia). She was successfully operated by a team of Specialist Doctors Dr Pramod Verma and Dr Rahul Patel. Mayuri's father Rajendra Pathak expressed happiness for the success of the operation and thanked everyone.

Dr. Rahul Patel, Dy Medical Superintendent, Super Specialty Care of People's Hospital Bhanpur Bhopal, said that it was a high risk surgery particularly because Mayuri was a Special child and the physical structure of such children differs from Normal as the heart is also very weak. Dr. Rahul Patel said that it was possible to do such a high-risk operation successfully due to the conscientious efforts of the expert Doctors and the whole team along with the due integration of high-powered modern machines and resources available at the Super-Specialty Care Hospital. Mayuri was discharged from the hospital with smile on her face.

Super Specialty Care of People's Hospital Bhanpur Bhopal has a team of experienced notable expert Doctors for all kind of medical treatments. The Surgical Holmium Laser Machine is the leading in Central India. Emergency Casualty Modular Operation Theater 24 x 7 Modern well equipped Intensive Care Unit (ICU) Comfortable Private and Deluxe rooms with modern facility are available at affordable prices at Super Specialty Care Hospital. A full-fledged canteen and safe ample parking is also available for the patient's convenience at the premises.
RELATED NEWS
February 25th, 2020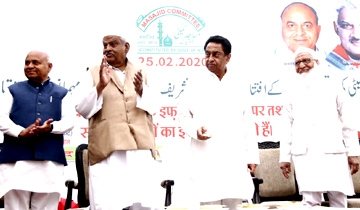 February 25th, 2020
February 25th, 2020