​Let's know about the Victor Force
Wednesday - July 31, 2019 2:53 pm ,
Category : WTN SPECIAL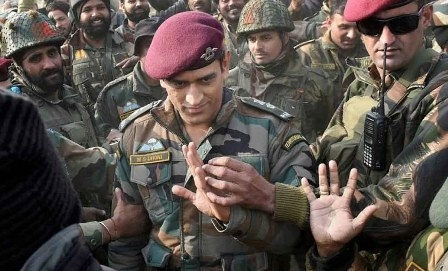 ---
Mahendra Singh Dhoni to come up against terrorists in Kashmir!

JULY 31 WTN) – Indian cricket team's wicketkeeper batsman Mahendra Singh Dhoni, in whose captaincy Indian won the Cricket World Cup in year 2011, is in the discussions about his deployment in the Victor Force these days. Mahendra Singh Dhoni has joined 106 Territorial Army Battalions (Para) today. Mahendra Singh Dhoni will be stationed in Kashmir while joining the Victor Force. What is the Victor Force, whose part is Mahendra Singh Dhoni? Let us explain this in detail.

First of all, let you know for your information that the Army has not forced Lt Col Mahendra Singh Dhoni forcibly join the duty in Kashmir. Mahendra Singh Dhoni has opted out of the West Indies tour and deployed in Victor Force. Dhoni had been planning to take training after joining the Territorial Army battalion (para) for a long time, but due to the busy schedule of the Indian cricket team, Dhoni could not take the time out. Now Dhoni will be in training with Victor Force in Kashmir from July 31 to August 15.

For your information, let you know that the Rashtriya Rifles is a major part of the Indian Army. The Victor Force is a part of the Rashtriya Rifles, which is one of the most dangerous missions of the Indian Army. The Rashtriya Rifles is an anti-terrorist and anti-treason force. Half of the soldiers in the Rashtriya Rifles deployed from the Indian Army's infantry, and half the soldiers deployed from other parts of the Indian Army. Rashtriya Rifles is deployed in Jammu and Kashmir. This force is dedicated to fighting extremism in Kashmir and to make the weaker local security forces the best in the region. The Rashtriya Rifles was formed in the year 1990. Immediate General of Indian Army S.F. Rodrigues and his successor General B.C. Joshi gave a lot to the Rashtriya Rifles in the beginnings.

This Indian Army unit works as the Counter Insurgency Force (CIF). It is also known as the Counter Terrorist Force. This force was deployed in view of the increasing terrorism in Jammu and Kashmir. The Rashtriya Rifles has been divided into five major units. Romeo Force (CIF-R) - This force is stationed in Rajouri and Puch. Delta Force (CIF-D) - This is stationed in Doda. Victor Force (CIF-V) – This is stationed in Anantnag, Pulwama and Badgam. Kilo Force (CIF-K) - It is stationed in Kupwara, Baramulla and Srinagar. Uniform Force (CIF-U) - It is stationed in Udhampur and Banihal.

As we told you that there is the deployment of Victor Force in Anantnag, Pulwama and Badgam in Kashmir valley, in which infantry troops are deployed. In addition, the personnel of the Ordinance, Air Defense and Engineering Wing are also stationed in this. For your information, let you know that training of the Victor Force is very different. In cities, villages or forests, there is a problem of insurgency so they are deployed immediately. That's why their training is based on this. Mahendra Singh Dhoni will be deployed in this Victor Force, where he will do duty of petrol, guard and post.

The Rashtriya Rifles was built as a paramilitary force. In this force, many regiments of Army officers and jawans have been included, such as Rajputana Rifles, Gurkha Regiment, Garhwal Rifles, Maratha Light Infantry, Sikh Light Infantry and Sikh Regiment. In the Rashtriya Rifles, officers and soldiers are sent on deputation for a period of 2 to 3 years. According to the information, the Rashtriya Rifles personnel get an additional benefit and 25 per cent more salary than regular Rashtriya Rifles personnel.

RELATED NEWS
November 16th, 2019
November 16th, 2019
November 15th, 2019