Solve the problem of smartphone battery's being exhausted quickly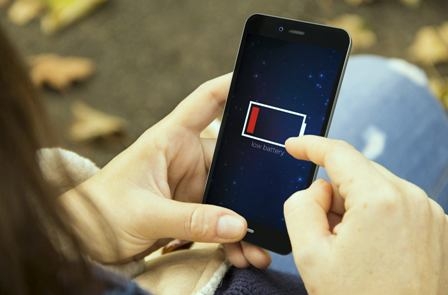 ---
Whether your Smartphone's battery too exhausted quickly?

AUG 17 (WTN) - In the current modern era, it is common practice to use a smartphones. The works for which you had to waste your precious time in queue, nowadays the same work is being done on the smartphone in a few seconds. It is clear that the smartphone has become a special need of the common people these days. According to a research, a typical Indian spends a lot of time of his day on a smartphone, and that is why the battery of the smartphone exhausted soon. But, it has been seen that these days the battery of the smartphone is being exhausted a bit sooner than before. If this is happening to you too, then why is this happening and how can you fix it yourself? Let us explain this in detail.

According to the information, a bug has been identified in Android and due to this bug, the problem of battery exhaustion is coming out. But, for your information, let you know that you can fix this bug yourself. How is this possible? Let's give you information about this. According to the report of 'Android Police', due to lack of Android apps, the battery of smartphones around the world is being exhausted soon. According to the report, due to the latest version 18.3.82 of Google Play Services, the battery of Android device is being exhausted faster than before.

First of all you should come to know that which app is spending more battery on your smartphone. To find out, you have to go to your smartphone settings. After going to Settings, here you will see the option of Battery Usage. In the Battery Usage option, you will see which apps are using how much battery. If you see the Google Play Service at the top while checking in Battery Usage, then it means that you battery is being exhausted quickly due to this.

But, if you think that how to overcome this problem, then we give you information about this. To solve this problem, first you need to download the beta version of Google Play Services. You can download the beta version of this app at https://play.google.com/apps/testing/com.google.android.gms. After downloading this; you have to choose the option of 'Become a Tester'. After choosing this option, wait for the update to come in your smartphone. Whether the update reaches to your smartphone, you should keep checking it periodically.

Now you have to downgrade your Google Play Services app. To downgrade it, you have to go to APK mirror (https://www.apkmirror.com/), or Aptidoe (https://www.aptoide.com/en/home). After doing this, now download Google Play Services from your Android mobile phone. After this, give permission to install Unknown Apps in the Android settings of the smartphone.

After doing this, first go to Apps, and then select Data Usage in Google Play Services. Turn off the background data after all this process. As soon as you turn off the background data, it will not allow the app to update any new version. After adopting this whole process, your battery will give better service than before.