If planning for going to China then be careful
Sunday - January 19, 2020 1:50 pm ,
Category : WORLD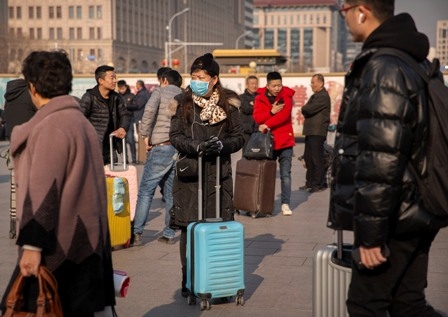 ---
Be careful! Seafood can spread dangerous disease

JAN 19 (WTN) - A serious disease in China, the world's largest population, remains a cause of trouble these days. People all over China are getting sick due to this disease. At the same time, there is a possibility of spreading the disease in China's neighboring countries, and due to this, neighboring countries of China have started taking precautions. After all, we tell you in detail about this disease and how this disease is spreading.

First of all, for your information, let us know that this disease spreading in China is spreading from the Novel Coronavirus from the last week of December. At first, the doctors of China did not understand what the contagious disease like pneumonia is. But later German scientists detected the virus of the disease. According to German scientists, the cause of this disease is Novel Coronavirus and this virus has been seen in China for the first time.

The big fact is that no laboratory of a country like China developed in the technology could recognize the virus, after which samples of patients were sent to Germany. The virus was detected in a special lab in Germany. For your information, let us know that about 200 people have been victimized by this disease in China and out of this two people have died.

According to Germany's Center for Infection Research Laboratory, the Corona Virus has a large family and evolved from the same family for the first time in the Wuhan province of China. Let us know that in the month of December, reports started coming from central China's Wuhan province that people are suffering from peculiar disease, in which they have a high fever with cough as well as they have trouble breathing. When doctors in China conducted radiography of these patients, it was found that the lungs of most patients are getting damaged. After seeing the symptoms of this disease, doctors in China initially thought that the disease could be SARS flu but the Chinese doctors feared it to be wrong.

Let us know that this disease is now spreading from Wuhan province of central China to other provinces as well. Not only this, but some of its patients have also been detected in Hong Kong. For your information, let us know that this disease has started from a seafood market. After investigation, it was found that most of the people who got sick from this disease either went to this seafood market or then they bought seafood from this market. However, the government has closed this seafood market immediately. But by then the disease had engulfed many people.

Chinese scientists had thought about this disease that the disease is being transmitted from animals and birds to humans, but will not spread from humans to humans. But later Chinese scientists came to know that this disease can spread from man to man. This means that the disease spread in China is dangerous, so the World Health Organization has issued a warning that the disease can spread to neighboring countries of China and that is why China's neighboring countries need to be vigilant. Actually, one case of this disease is detected in Thailand and another case has been confirmed in Japan.

Let us know that Novel is a long family of Corona Virus. Some of these viruses make people sick, but some viruses make animals their prey. Although the coronavirus that spreads in animals may have targeted humans in some other way, this time it is believed that this animal living virus has evolved in a new way and it has also started taking humans in a grip.

So as we told you that the World Health Organization has alerted China's neighboring countries because of this disease. In such a situation, vigilance is being done at the airport in almost all Asian countries and at the same time, there is a check through a thermal scanner. As far as India is concerned, the Union Health Ministry has instructed travelers coming from China to check with a thermal scanner at Delhi, Mumbai and Kolkata airports. Not only this, but the Government of India has also issued a travel advisory to visit China.
RELATED NEWS
February 26th, 2020
February 26th, 2020
February 26th, 2020