Weeknight Crack Slaw
Monday - April 30, 2018 11:30 am ,
Category : RECIPES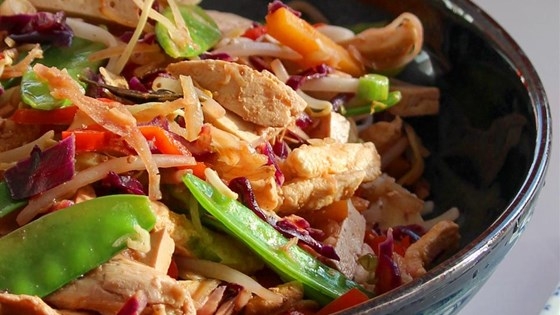 ---
Ingredient:

1 tbsp chipotle hot sauce
1 tbsp rice vinegar
1 tsp soy sauce
1 ½ tsp minced ginger
1 tsp agave syrup
1 tbsp olive oil
1 tbsp sesame oil
1 pound ground turkey
½ tsp salt
½ tbsp ground black pepper
1 package coleslaw mix
½ red bell pepper, diced
2 green onions, chopped, or more to taste
2 cloves garlic, minced
1 tbsp sesame seeds

Method:
Mix chipotle hot sauce, rice vinegar, soy sauce, ginger, and agave syrup together in a small bowl to make sauce.

Heat olive oil and sesame oil in a wok or large skillet over medium heat. Add ground turkey; cook, stirring to break up clumps, until juices run clear, about 6 minutes. Season with salt and pepper. Transfer to a bowl, reserving juices in the wok.

Combine coleslaw mix, red bell pepper, green onions, and garlic in the wok; cook and stir over medium heat until slaw is slightly wilted, 1 to 2 minutes. Add sauce; mix to combine, about 1 minute. Return turkey to the wok and stir until heated through, 2 to 3 minutes.
Sprinkle sesame seeds over slaw before serving.
RELATED NEWS
January 20th, 2019
January 20th, 2019
January 20th, 2019