Villages Situated on Narmada Banks Will be made Free of Addiction and Pollution
---
CM Chouhan in Jan-Sanvad at Village Nehlai of Sehore District
Muslim Community Welcomes Yatra
Bhopal:
Chief Minister Shivraj Singh Chouhan said that Narmada Seva Yatra has been started with the resolution to make Narmada River clean and incessant. All the citizens should participate in this major campaign of river conservation.
Chouhan was addressing the Jan-Sanvad programme at village Nehlai of Sehore district in 'Namami Devi Narmade' Seva Yatra today. He administered pledge to the villagers to plant fruit bearing trees on the banks of river Narmada, to make Beti Bachao abhiyan successful, to educate children, not to dispose off old material in river, not to immerse idols in rivers, not to perform last funeral rites on Narmada banks and not to dispose off polythene and other material which causes pollution beside not to perform deepdaan with plastic lamps.
CM Chouhan announced a cash reward of Rs. 5 thousand each to two girl students Ku. Sonam Yadav and Ku. Ruchi Gour who recited poems focusing achievements of the state government. He also distributed prizes to the winners of bhajan competitions organized during the seva yatra. Moreover, Chouhan administered pledge to the villagers towards water conservation and de-addiction.
CM Chouhan mentioned that we all should take resolution towards conservation of all rivers and ponds. He said that he was grieved to see very less water in Narmada river during his visit to Dindori district last year. Immediately after that he took a resolution to link people with river conservation campaign organizing Narmada Seva Yatra, which is being fulfilled today. He mentioned that Narmada River is a lifeline, on one hand electricity is being generated on the other prosperity is coming in the lives of farmers through irrigation of agriculture fields by Narmada water. Chouhan said that this yatra does not belong to any particular religion or party and it has become a large public movement now.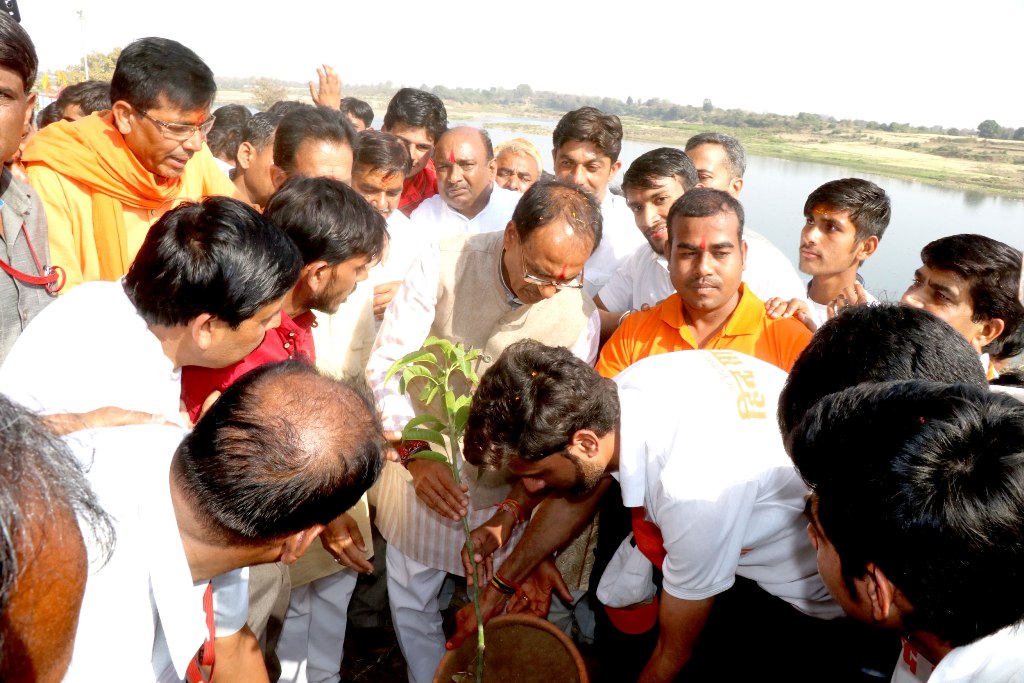 Chief Minister Chouhan planting a mango sapling on the bank of river Narmada, appealed to the villagers to plant saplings around their houses and make arrangements for their protection. He informed that plantation will be carried out in one k.m. width on Narmada banks to make Narmada flow incessant.
Muslim Community Welcomes Yatra
People of Muslim community came from surrounding villages in large numbers led by Abdul Razzaq Khan showered flowers to welcome yatra in village Nehlai.
CM Chouhan welcomed with Coconuts
An elder woman Smt. Jamuna Bai welcomed CM Shivraj Singh Chouhan and his wife Smt. Sadhana Singh presenting them 5 coconuts. Chouhan said that Smt. Jamuna Bai presented him an amount collecting Rs. 2 each from women with blessings when he was contesting election from this area first time. She also told me to eradicate the problems of women of this area after becoming MLA.
Pledge to make village Addiction Free
Dozens of women came from village Jajna took pledge before the CM Chouhan that they will force male members of their village to quit addiction and will make their village addiction free. These women said that they will struggle hard if needed to make the village addiction free.
Chairman Forest Development Corporation Guru Prasad Sharma, Chairman Mineral Development Corporation Shiv Kumar Choubey, Chairman Madhya Pradesh Farmers' Commission Ishwar Lal Patidar, Vice President Jan Abhiyan Parishad Pradeep Pandey, Sadhvi Smt. Pragya Bharti, President Indore Jila Panchayat Smt. Kavita Patidar, several religious Heads and public represenatatives were present in the programme.-
WTN
RELATED NEWS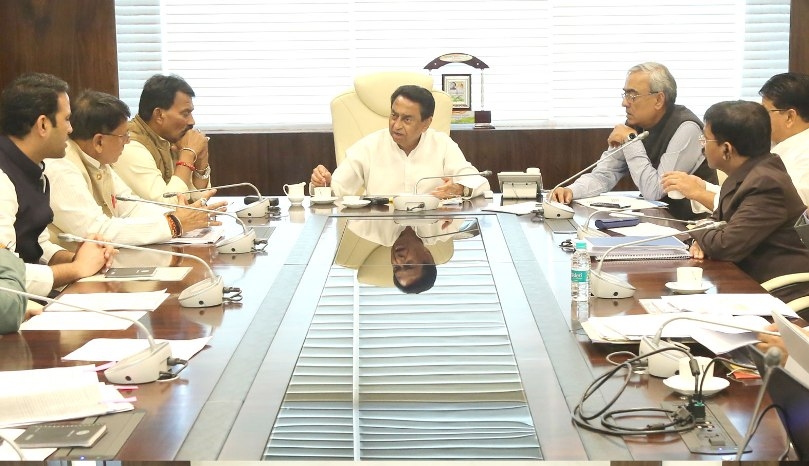 December 6th, 2019
December 5th, 2019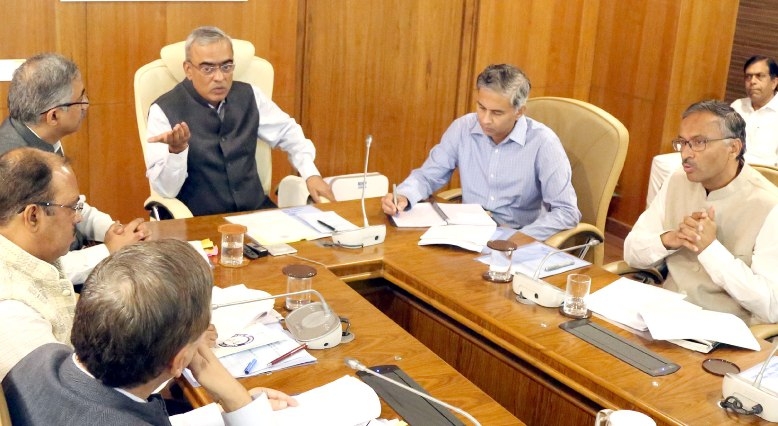 November 29th, 2019