Narmada Seva Yatra is the Biggest River Conservation Campaign of the World-CM Chouhan
---
Sudhanshu Maharaj Gives Blessings to Yatra
Bhopal:
Chief Minister Shivraj Singh Chouhan said that Narmada Seva Yatra is the biggest river conservation campaign of the world. A unique amalgamation of Ganga-Jamuni culture is being witnessed in this yatra. People of all the religions are making integrated efforts to generate awareness towards environment and water conservation. He further mentioned that Narmada seva yatra has been started with an intention for conservation of Narmada River and other rivers. Also it has been started to generate awareness among the people towards sanitation, plantation including creation of atmosphere for de-addiction and encouragement to bio-farming.
CM Chouhan was addressing the Jan-Sanvad programme during Narmada Seva Yatra at Budhni Block head quarters of Sehore district.
Minister for Urban Development Smt. Maya Singh, Minister for Public Works Rampal Singh, Former Chief Minister Babulal Gaur, World Renowned Sant Sudhanshu Maharaj, Sant Shanti Swaroop of Ujjain, Famous Bhajan Singer Lakhveer Singh Lakkha, MLA Rameshwar Sharma, Chairman MARKFED Ramakant Bhargava, Chairman M.P. Mineral Development Corporation Shiv Choubey, Chairman M.P. Warehousing Corporation R.S. Rajput, Sadhvi Smt. Pragya Bharti and Several Sants were present in the programme.
CM Chouhan said that Narmada River does not originate from glacier. Water absorbed by land during rainy season nourishes Narmada river through roots of trees. Therefore, a special campaign will be started from July 2 for plantation on one k.m. area on both the banks of Narmada river. Saplings in crores will be planted on the banks of River Narmada from Badwani to Alirajpur to Amarkantak.
Chouhan further mentioned that liquor shops will not be allowed to operate in 5 k.m. area on the banks of river Narmada from April 1. The state government has issued order in this regard, he added.
Moreover, Chouhan appealed to the villagers to construct toilets in their houses and use them because open defecation spreads diseases. He stated that sewage water treatment plants will be established in the cities situated on the banks of river Narmada and water after treatment will be supplied for irrigation purpose. Now no sewage water will be released in Narmada River.
Sant Sudhanshu Maharaj said that Maa Narmada came into existence on Earth due to Bhagwan Shankar's blessings. Narmada is so glorious that each pebble in it is worshipped in the form of Narmadeshwar Shankar. Today Chief Minister Shivraj Singh Chouhan has initiated the Narmada Seva Yatra to free Narmada of pollution and ensure continuous flow of its water which is praiseworthy.
Budhni was decorated attractively on Yatra's arrival. Attractive rangolis were made in front of all the houses between Budhni and Gwaldia to pay respect to Narmada Seva Yatra. CM Chouhan Also performed Narmada Aarti on the occasion.
Over 300 Muslims from Bhopal district take part in Narmada Upyatra
Narmada Seva Yatra was today welcomed at Budhni. One upyatra from Bhopal district led by Huzur MLA Rameshwar Sharma was joined the main yatra at Budhni.
Over 300 Muslim brethren led by Pyare Miyan Bhopal took part in the yatra. In his message, Pyare Miyan said that water is of higher importance than both Dharma and Karma. We all have to save it from danger. He appealed to everyone not to waste water. He said that the Narmada Seva Yatra initiated by Chief Minister Shivraj Singh Chouhan to conserve water is praiseworthy.-
WTN
RELATED NEWS
February 17th, 2020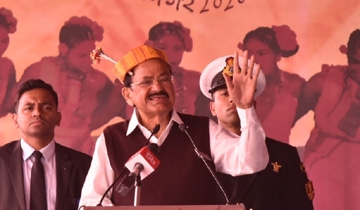 February 15th, 2020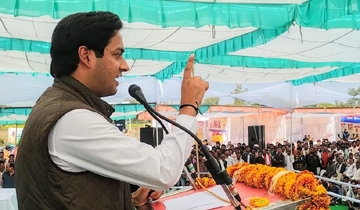 February 12th, 2020