Quick and Easy Black Bean Soup
Friday - May 18, 2018 11:12 am ,
Category : RECIPES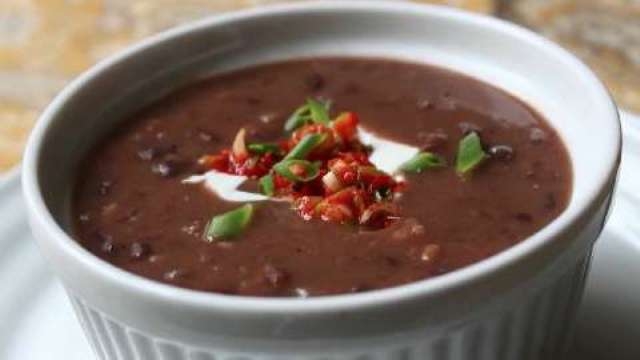 ---
Ingredient:

6 slices bacon, chopped
1 large onion, diced
3 cloves garlic, minced
2 cups chicken broth pinch of dried oregano pinch of cayenne pepper
1/2 teaspoon ground cumin salt to taste
2 (14.5 ounce) cans black beans, rinsed and drained
14 1/2 fluid ounces water
1/2 tsp ground black pepper Relish:
1/3 cup minced green onion
2 tsp sambal paste (or minced red chiles) juice of
1 lime

Method:
Place bacon in a cold pot. Turn heat to medium, cook and stir until the bacon is cooked but not crisp.

Stir in onion; cook and stir for 5 minutes, until the onion turns translucent and golden.

Stir in garlic; cook for 2-3 minutes. Add chicken stock, turn heat to medium-high. Stir in oregano, cayenne and salt. Add black beans and water. Return to a simmer.
Simmer on medium-low, stirring occasionally, for 20-30 minutes. While it's cooking, mash about half the beans to thicken the soup.
Stir in black pepper and cumin. Add salt to taste.
Make the relish by stirring together minced green onion, sambal paste, and lime juice.

Serve garnished with relish, chopped green onions, and sour cream.