Cajun Shrimp Pastalaya
Monday - June 4, 2018 11:06 am ,
Category : RECIPES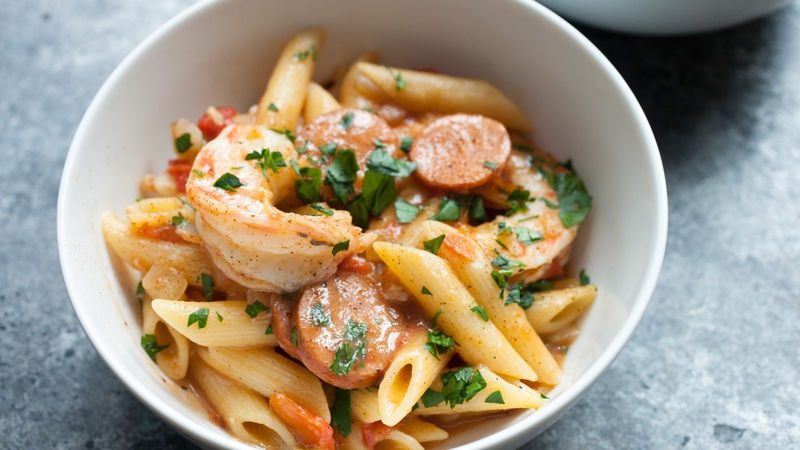 ---
Ingredient:

1 tbsp olive oil
1/2 lb Andouille sausage, sliced
1/2 white onion, diced
1/2 cup diced celery
1 can (14.5 oz) Muir Glen Organic Diced Tomatoes
1 lb penne pasta
1 tbsp Cajun seasoning
3 cups chicken stock
1 lb large shrimp, peeled and deveined
Salt and pepper
Fresh parsley, for garnish

Method:
Add 1 tablespoon of olive oil to a large Dutch oven over medium heat. Add sliced sausage, white onion and celery to pan and cook 3 to 4 minutes until veggies soften.

Meanwhile, peel and devein the shrimp. Tip: use a small paring knife or kitchen shears to cut down the back of the shrimp and wash out the vein. Leave tails on and set aside.

Add tomatoes, penne pasta, Cajun seasoning and chicken stock to the Dutch oven. Bring mixture to a simmer and reduce heat to low. Cover and simmer for 6 minutes.

Stir well, then replace lid and cook for another 4 minutes. At this point, the pasta will be mostly cooked and most of the liquid absorbed.
Add the peeled and deveined shrimp to the pan and stir to combine. Cover and cook 3 minutes more.

Remove lid and give everything a good stir. Taste the pastalaya and season with salt and pepper to your liking. Garnish with fresh parsley.
RELATED NEWS
January 20th, 2019
January 20th, 2019
January 20th, 2019